Such a person does exist. And people call him Tarzan. Because he lives in the rainforest near g.Kernsa, in the Australian state of Queensland. There, in the large outer roots of the fig trees he arranges his dwelling. He is often seen at the Bruce Highway: tanned older man in shorts and boots, holding the shoulders holschёvy bag from under the sugar, striding vigorously kilometer after kilometer. Specials drivers - ride Tarzan usually refuses.
The first time I saw it on TV: The program tells about what lives in the neighboring forests Tarzan local legend, an elderly hermit who for a long time for the 70, but his health can only envy: he goes on foot a day more than a dozen kilometers away! Since then, Michael sometimes catches me on the road, I see it somewhere in the city. And once I had a chance to talk with him.
The most interesting part of his biography - it's a fact that the descent Tarzan - our countryman! His name is Mikhail Fomenko, but for the Australians it - Michael.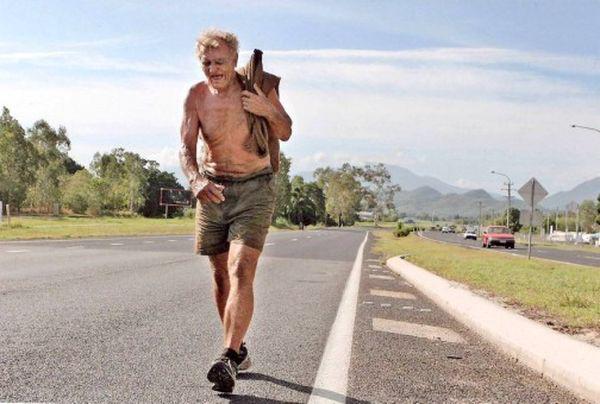 More than 50 years ago, Michael Fomenko rejected bustling Sydney and headed for a new life - to the wild world of the northern Queensland. Once a student of the school Shore, and now - eighty-year old man, he became a living legend of Queensland.
Michael was born in 1930 in Georgia in the aristocratic family of the Georgian Machiabelli Princess Elizabeth (Elizabeth Machiabelli) and champion in athletics, and later - University lecturer Daniel Fomenko. In the late 1930s the family Fomenko went to Vladivostok and then risk crossing the border, reached Manchuria. This their way is not over, and soon the family moved Fomenko in Kobe in Japan. There's Michael's father while he taught at the university. Michael was also a leader in the campaign, just like he was a boy from refugee families, and together they often fought with the local Japanese boys.
After the news of Japan's entry into World War II, the family moved to Australia. Since 1941, Fomenko settled in Sydney. Michael's father found a job as a language teacher in one of the colleges in Sydney (North Shore GSP College), and during the war worked successfully and radio commentator.
While studying in school, shy and dreamy, Michael was the only foreigner among the other 900 students ... His English is poor, he felt like an outsider. Besides affecting the unpleasant experience of living among the refugees in Japan.
In Australia during the holidays the family of Michael often went on nature, the forests of Queensland and Tasmania. That's when the boy was born to love the jungle, especially of Northern Queensland.
At school, Michael showed great ability in sports. On the playground, Michael broke the record for rugby. After high school, Michael competed for athletic Klub North Sydney, where he established seven records and was recognized as one of the best local athletes.
In an interview about his son in 1959, Michael's father said: "Michael engulfed fighter and athlete character of Odysseus, Homer's favorite hero works."
Michael even selected in the Australian national team for participation in the Olympic Games 1956 in Melbourne.
Only once in his life, Michael had a job in Australia - one of the shipping companies in 1951.
One day, Michael left the parents' house, he went into the jungles of North Queensland, imitating traveler, warrior and athlete Odysseus, "worship of nature," Michael liked to say. His mother suffered unspeakably, and the son of the act.
At first, the young Michael returned home to visit his girlfriend, causing her out of the house sound of a seashell, into which he dudel. But then the traveler lost in the thickets of Cape York.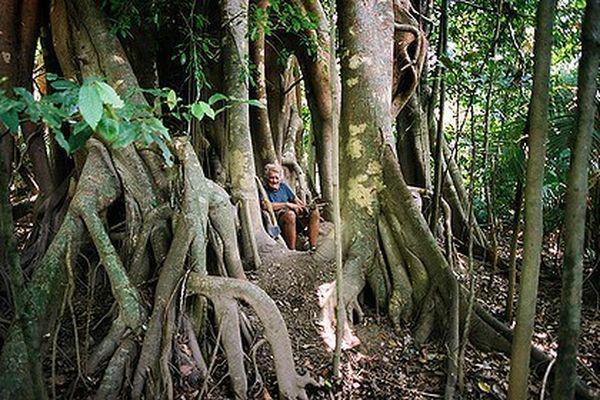 A year later came the news that near Cairns saw his canoe sea barge; Team Michael even offered to take him on board, but he refused. Father Michael shared his thoughts at the time: "I am sure my son for a long time waiting for the moment when in a flannel shirt, jeans, flip-flops, with a backpack and a tomahawk in hand, he will be able to leave home and travel».
In 1958, his canoeing from the small town of Cooktown in the north of Australia to Thursday Island Michael Fomenko took the front pages of international newspapers.
Guided only by the stars, Michael made the trip for 7 months.
Shortly thereafter, Michael swam toward Merouk (formerly Dutch New Guinea) and for three months lost at sea.
Concerned family announced his quest. Michael was found on Ayrian Jaya weakened, exhausted, without a passport, and brought home to Sydney.
A few weeks after he had to rest in bed, and trimmed, Michael went back. On Cape York.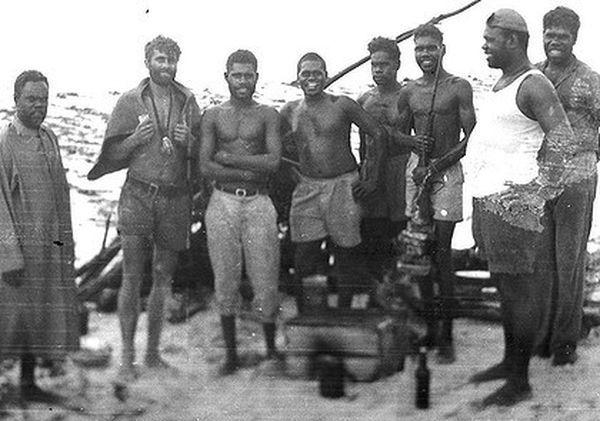 My father has always supported the adventurous life of Michael in his choice and defended it in front of his wife, who longed to return home to his son, even by force. But in 1960, Michael's father died and his mother Elizabeth began to insist that his son should be traveling back to home. In 1964, Michael searched politsiyskih units. He was found and arrested for vagrancy and indecent appearance - he wore only a loincloth. After that, Michael declared insane and put him in a psychiatric hospital where treated sedatives and eletroshokovoy therapy.
It is even more frightened and alienated him from the people and in 1969, when he was released from the hospital, he again went to their favorite jungle to the north of Australia.
Only twice after that, he came to Sydney. Last time - in 1988 for the funeral of his mother. Shortly before the death of his mother, Michael told one of his three sisters, Nina Oom, the mother knowingly put him in the hospital.
Nina told reporters: "My mother is very sorry about it. Especially because of the violent treatment. But now, Michael would have to go back and settle down. I think he ran away for some reason, in itself, the fact that, unfortunately, no one could understand. But there was another Michael who wanted to be an ordinary man and start a family. »
In 1985, Arthur Monstid photographer and journalist Frank Robson from Sydney on the trail of Michael and were able to find it in the jungle near the small village of Ayton, where he pitched his tent and lived for some time. Frank Robson said: "Michael greeted us and invited to his fire. Then he introduced himself and offered us a coca-cola and chocolate. We shared the news with Michael, what is happening in the world, about nuclear war, to which Michael replied that he had never heard of it. He was also surprised to learn that Johnny died Veystmyuller, the legendary American actor who played Tarzan. »
"Michael told us their life stories - continued Frank Robson. - He was proud that during his voyage by canoe, from Australia to Papua New Guinea, he did not give up and bravely remained afloat. But there he was ill, and he even dizentiriey transfused blood to save lives. Asked why he had left Sydney, Michael explained what was then a silly boy who wanted to be out in nature. On relations with women, Michael said, "I admire women, but to them it is difficult to establish contact ... I have 2-3 friends, with whom we have had a love ... But it lasted long." He asked us, "What is Sydney now? Better than before? I think it is changing for the better. I miss him, especially dancing and partying ... But here, my life is filled with nothing comparable adventures! »
Michael treated when ill? He said that in the nature of many of their treatments, but still the best - it's exercise. During that meeting, Michael was 55 years old. It seemed that he had left Sydney recently. "I can at any time to go home - said Michael. - But I'm still young ... I think I could be a doctor. I always wanted to study medicine. I think that of me would have made a good doctor. »
Shortly thereafter, Michael's sister, Nina Oom came to visit her brother, with whom she had not seen for about 10 years when she found him, who went on a deserted beach, and called out, Michael did not recognize it, and only said: "I need to do my exercises." And, pushing his sister, he walked on. Nina left on the sand mark by which Michael later learned it. Then they met again under the trees, where he lived and spent a few days together, until one day, Michael suddenly disappeared again ...
From time to time, Nina received a letter from Michael (Nina died in 2008). She was worried about his power, his teeth - he almost never had their teeth, only artificial, and those lost somewhere in the sea ... Nina thought his brother "addicted to exercise," as a person can be addicted to drugs, Sports, casino games.
Living in the forest, Michael became friends with Aboriginal tribes. They appreciate his strength and ability to survive in the difficult conditions of wildlife.
It was then that the children of Australian Aboriginal and Torres Strait Islander nicknamed him "Tarzan" - king of the jungle.
Bankova serving Babinde (a small suburb near Cairns), Jack recalls Gentle young man with an excellent figure, when 40 years ago he went to the bank in a loincloth ...
Michael said the loss of the banking book and asked for a replacement. The reason for the loss he pointed out the fact that his bank book was eaten by crocodiles.
Since Michael received previous bankbook in Sydney, Bank Babindy sent to the request. Soon came the reply from Sydney, where bank officials have questioned the reason for the loss, and asked for additional explanation. Michael had to add that while camping near Coeur Vellinden his bag (out of sugar) with things was dragged crocodiles. Seeing who is Michael, the bank assured Babindy this explanation, and a request was sent again to Sydney. In the end, Michael got a new bankbook.
In the jungle, Michael lived in caves along the river or in shelters erected them from the "building material" found in the same place, eating fish, birds, wild fruits, coconuts. One day, after hunting with your friends, he sent his mother trophies - wild boar tusks and teeth of sharks.
Armed with a machete or knife, he put himself at risk, fighting with crocodiles, as well as swimming in the Coral Sea among sharks and dangerous jellyfish. But ... it was there where always wanted to be and do what always dreamed of. "I gave up what you call civilization," - said Michael reporters - "This is my paradise - paradise quiet life and personal efforts. I just want a life, otherwise I would feel that I live only half ».
The former owner of the shop in the village of Ayton, Pёl Kendrick recalls the way of life of Michael: "He came into my store and buy meat fillets with bone, sugar, canned food, powdered and condensed milk." Pёl Kendrick kept in touch with Michael's sister, Olga Oom, who lives in Sydney and, to her delight, telling her about the movements of his brother. One day Olga said of his brother: "Many people are afraid of it, but that it is in vain: he harmed no one. On the contrary, some have tried to harm him. " Wife Pёla Kendrick remembered how once saw Michael floating in a dangerous place, full of crocodiles and sharks, but they never seemed to touch him.
When about Inisfayla still working sugar processing plant and Michael lived on a hill across the river Johnstone, he easily crossed the river and asked workers to pour a bag of sugar. He never denied. Then Michael swam back to his home, carrying a bag of sugar on her head. He never wore nothing but shorts and flip-flops.
But now, going to the store, he always wears a T-shirt.
In 1990, Michael was again detained, this time in Bundaberg, on the way to Sydney, where he went to visit his mother and three sisters, was at the time in a nursing home. At this time the behavior and appearance of Michael aroused suspicion among locals Bundaberg who saw him dressed in his usual "forest" clothing and doing daily exercise.
After another study, psychiatrists rendered the final verdict: Michael - not a mentally ill person, and refers to it should be, like all other people.
In recent years, several Michael changed his reclusive. He often stops at motels. In the evening he likes to watch TV news with the other guests. True, he is laconic in conversation.
It is not known whether he was ever married. Michael is not easy to persuade to give an interview, and when he is asked to pose in front of the camera, he says: "Maybe some other time».
He had no close friends, but residents in the area are well aware of whom in question, if someone is interested in Michael, they immediately say, "Oh, it is the elderly man who always walks briskly down the road. He must have already accumulates millions of miles! It costs nothing to go for the day from Cairns to Inisfayla "(distance about 100 km).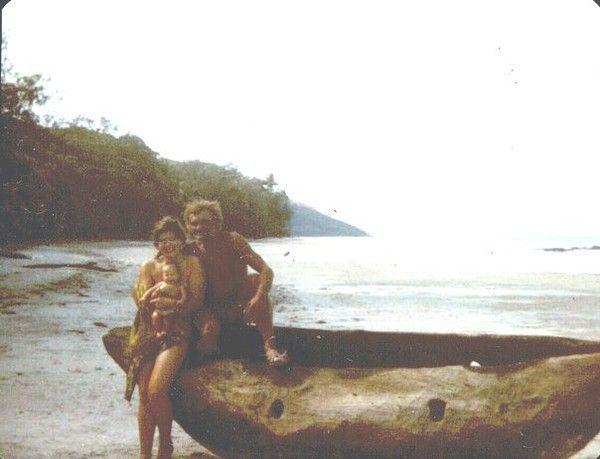 At the supermarket, he buys ice cream, and your favorite drink Coca-Cola, grilled chicken in cafe "Takeaway" like fish, french fries and hamburgers.
In a brief interview with a reporter, "Cairns Post", in 2005, Michael talked about his secret: he was making a new canoe, as're going to sail ...
Questions about health, Michael always says: no problem.
His stamina and health would be the envy of any man of forty ...
There is no doubt that Michael killed the crocodile with his own hands - he can demonstrate the two-meter crocodile skins.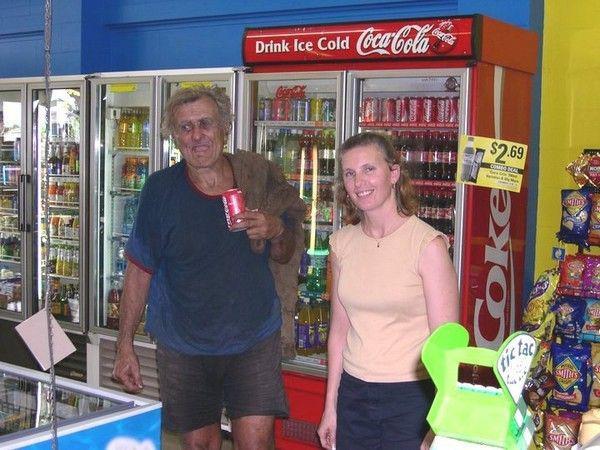 Michael lives now? The latest news is that sometimes it is in the town Bremston Beach, 70 kilometers south of Cairns. Here he comes in a unique cafe-shop, which is owned by Dean and Chris Jones. In August, I went there and talked to Dina. She told me a story: earlier this cafe-shop owned by other people. And one day come here to eat Michael Fomenko. The owner immediately called secret in the local newspaper and on TV and immediately came Bremston Beach journalists. Zaschёlkali cameras, twirled videotape, people asked Tarzan-the legend of the interview. Shocked Michael tried to escape and did not show up in this place. After changing owners of cafe-store Michael again began to come here. Dean said he loves Coca-Cola. One day, Michael brought the ax and asked him to look after the bottom. A month later he came back and took it. In general, Michael - unsociable. Dean may be called a fan of Michael Fomenko in a separate magazine she collects newspaper clippings in which it is written of Tarzan. She is happy to show your journal to its visitors: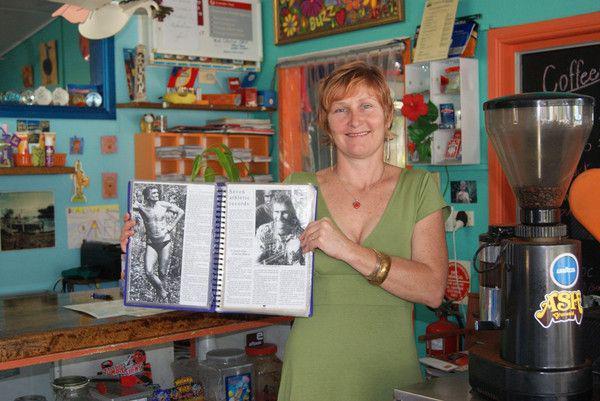 I also got acquainted with the magazine called "Tarzan».
Sometimes Michael is in the caravan park, which is controlled by Julien Fleming.
Michael and Julia (2011)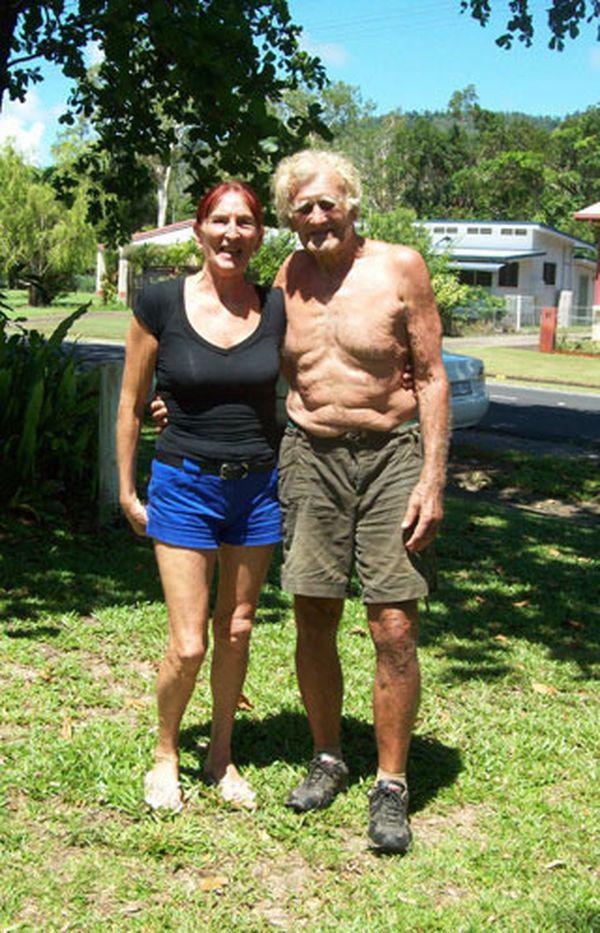 I Julien, 20 August 2011 Bremston Beach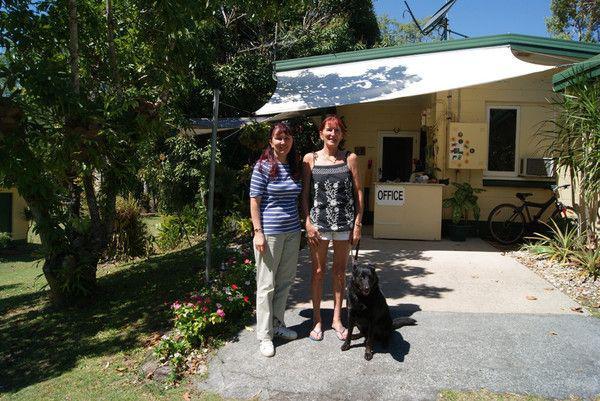 That same morning, when I was with Julien, she saw Michael on the bridge near the town of Innisfayl. Apparently, he injured his leg, because the limp. My husband and I immediately went to that place I wanted to see Michael, talk to him in Russian, take, if necessary, to the hospital.
Arriving at the river bridge, Jonathan, we stopped at the roadside. A couple of people fishing under the bridge, the teenagers were swimming on the river by boat, and the woman photographed something. I asked if they had seen Tarzan. The man replied that he had - under the bridge ... and then we saw Michael Fomenko gets out of his home and climb up onto the bridge. Then he walked along the road along the sugar cane. On it was wearing a red sweater. "Perhaps he is ill, or still has its age and the man became cooler" - I thought. We went to meet him. It is noticeable that it was difficult; he was limping and panting ... Beside him stood another machine, from which came the man and also went to the side of Michael ... Then Michael abruptly turned back and reached the bridge, literally jumped over the fence and disappeared under the bridge. We did not bother him in the camp. Michael Fomenko can understand: he leads a lifestyle that suits him and dislikes when people interfere in "his space". I would like to wound his leg was not too serious: It is unknown whether he spoke to doctors and appeal there. Anyway, the hospital is close to the bridge, under which he now lives.
Man hard, but he was proud and independent.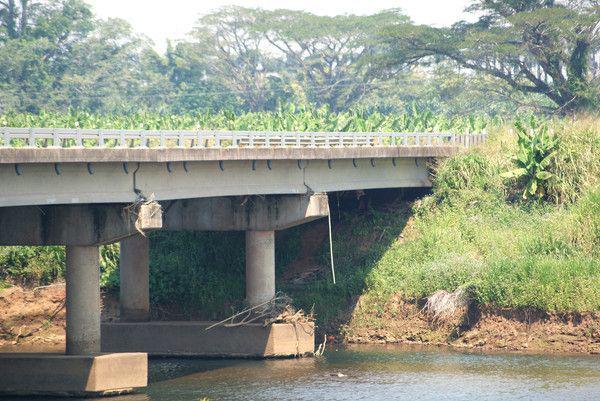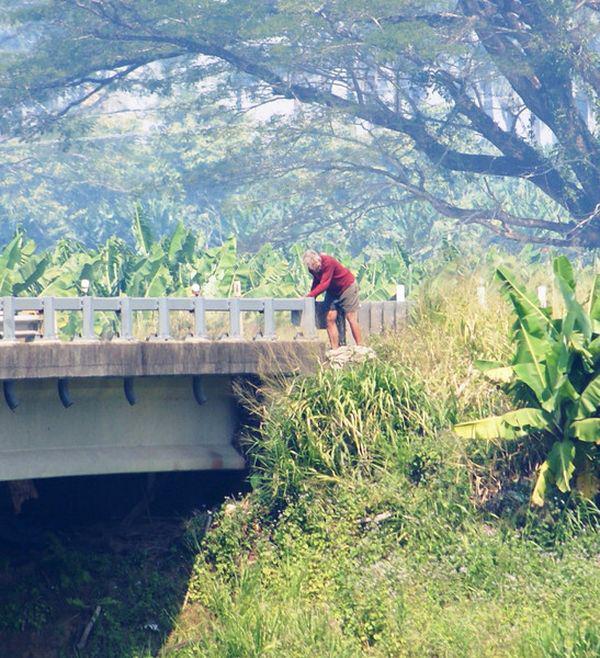 Once a brilliant athlete chose a civilized society free life in the wild.