When you hear the word 'landscape' that comes to your mind? Mountains, hills or the countryside? In fact, the landscape in a broader sense means "all visible objects defined territory", which include water bodies such as rivers, lakes, ponds and the sea. In the field of photography, filming these areas is classified as seascapes, and not necessarily the sea can be the main subject of the shooting - in the sea landscape typically present a variety of water bodies from the ocean and rivers and ending with waterfalls and lakes. These natural and artificial territory - one of the most beautiful and exciting places in the world. Today we take a look at eight of them. They are precisely the places that inspire us to travel, filling us with the spirit of adventure. But the pictures of these places also makes us want to live better lives more meaningful and fulfilling.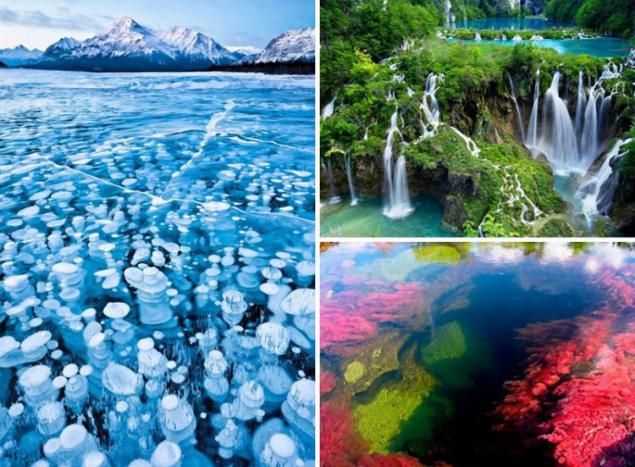 1. Plitvice Lakes, Croatia
One of the most popular tourist destinations in Croatia - Plitvice Lakes - are a series of 16 lakes, connected by a magnificent waterfalls. Lakes are located in the national park, which is a UNESCO World Heritage Site. They are able to change its color from green to azure and gray and blue. Because of travertine deposits (powdery white limestone) lies beneath the lakes, the water is always crystal clear. It is surprising that the lake - and the creation of nature only. The National Park "Plitvice Lakes" is a must for lovers of photography or visit nature. Nowhere in the world you will be able to see such a wonderful combination of lakes, waterfalls, rivers and forests in one place. (Photo: Jack Brauer)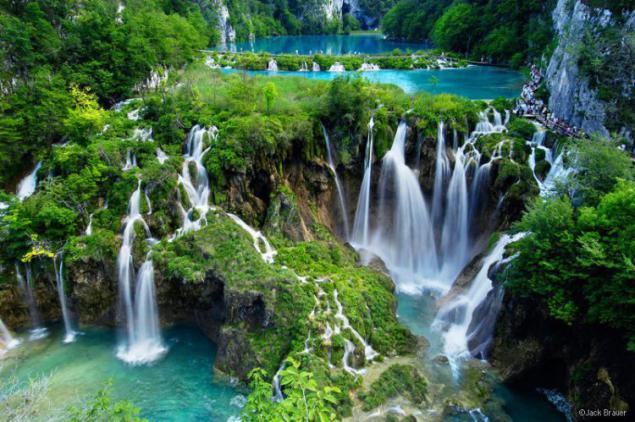 2. Abraham Lake in Canada
Visit Lake Abraham in the winter, and you will see incredible natural phenomenon - the frozen air bubbles under water. Often the appearance of bubbles in the water attributed to the presence of methane, which is trying to come to the surface. Frozen in the icy waters of bubbles from November to March, give a spectacular view of this artificial lake. The lake surface is very slippery, and ice thickness can vary from 5 to 25 cm. On the ice covering the lake, also present cracks and crevices that make a visit to this water attractions real adventure, especially for photographers (Photo: Emmanuel Coupe Kalomiris).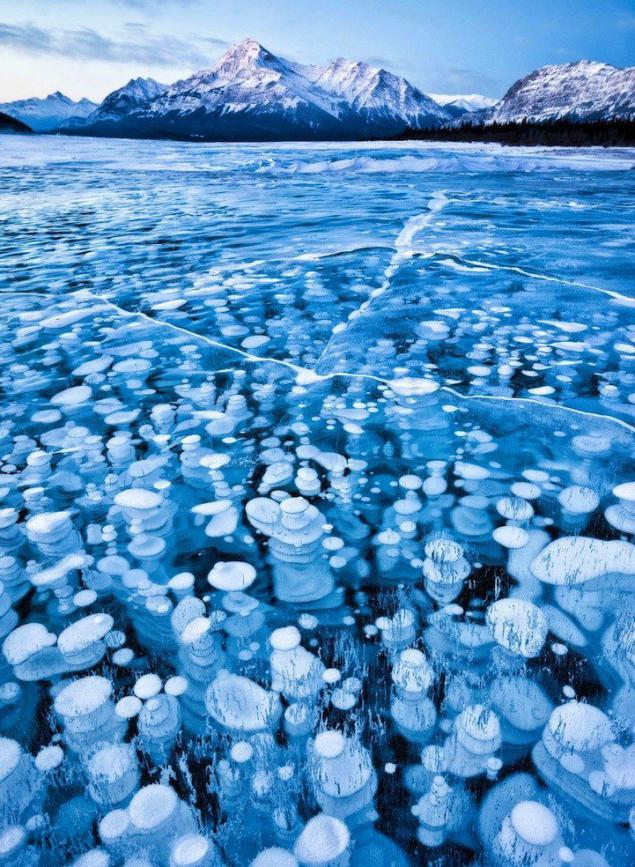 3. Lake Hiller, or Pink Lake, Australia.
To believe in the existence of this natural wonder, you need to see it with my own eyes the lake. Hiller Lake, located in Western Australia, shocked by its color at first sight - it is pink! Scientists are baffled because they can not understand why the water is bright pink, although many believe that this is due to the reaction of sea salt to sodium bicarbonate. Another option - the presence of red halophilic bacteria in salt crusts. Interestingly, the color is constant and, furthermore, has coloring properties. When lake water drawn into the container, it is colored in pink. (Photo: Vusan Alekeberov)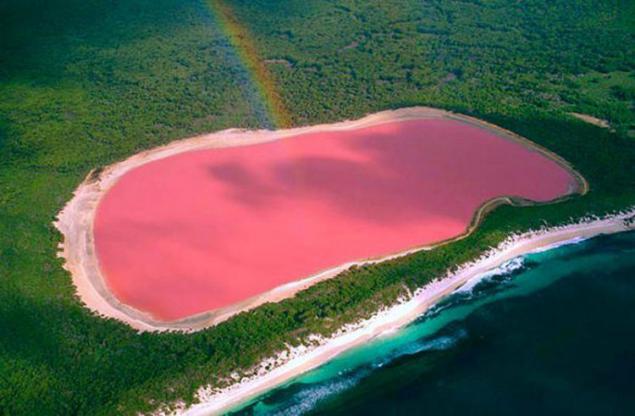 4. Halong Bay, Vietnam
Halong Bay (or "descending dragon bay") in Quang Ninh province in the north-east Vtnama, which is included in the List of World Heritage by UNESCO, is a must place to visit. The bay is located about 1,600 limestone islands topped with lush vegetation. Among these islands, you can find the hidden lagoons, beautiful beaches, numerous caves and grottoes of all shapes and sizes - places that are waiting to be explored. It is easy to see why this sea landscape is often included in the list of natural wonders of the world. Photos: (Air Pano)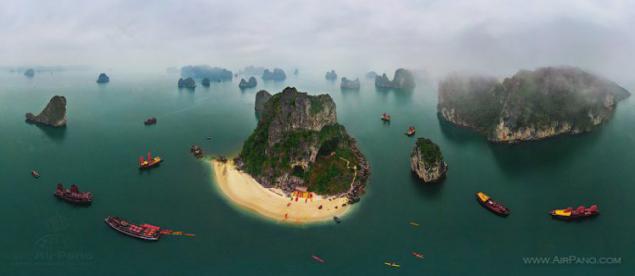 5. Lake Baikal, Russia
Visit the Lake Baikal, the deepest freshwater lake in the world, in the winter and you will be one of the lucky ones who were lucky enough to see the supernatural miracle of nature. In the colder months Baikal freezes, and the combination of wind, temperature changes, frost and sun give rise to the formation of faults and irregularities. These masses of broken ice have a magnificent turquoise color and look like shards of glass that are pulled from the lake, rising high into the sky. Icy hill can reach 15 meters in height, shimmering like a giant rock on the surface of ice-bound lake. Baikal, which is already more than 25 million years old, is a miracle of nature and one of the largest and deepest lakes in the world. Incredibly, it is here that there is one-fifth of all the world's fresh water. (Photo: Alexey Trofimov)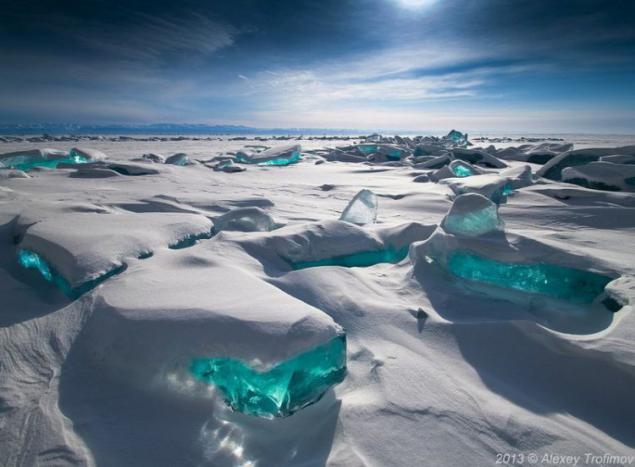 6. Wuhua Hai, or Lake five colors, China
Wuhua Hai Jiuzhaigou Valley, China - shallow lake filled with relics fallen trees rising above through the crystal clear waters. Iridescence lake originated from the reaction of lying in the lake trees on certain minerals. Name - Lake five colors - was due to the fact that at any time of the year in the lake there are at least 5 different colors. This is also called the pearl of Jiuzhaigou Lake Peacock. (Photo: All That is Interesting)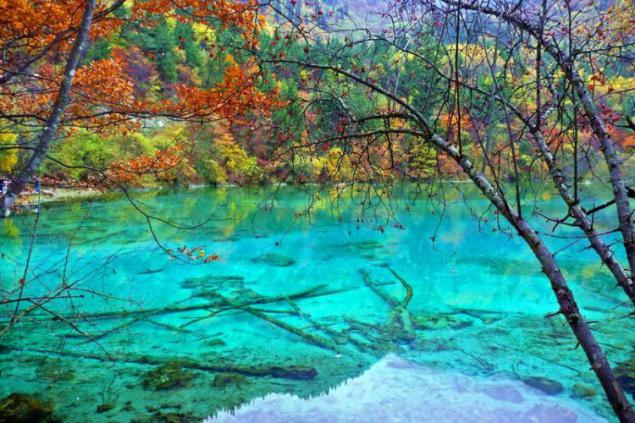 7. Caño Cristales river or five colors, Colombia
Come to Caño Cristales at the right time and learn why it nazyvayui the most beautiful river in the world. For most of the year, the bottom of the river covers green moss. But only once a year, between the wet and dry seasons, in September or November, the river explodes a variety of colors. Unique plants that carpet the bottom of the river, called Macarenia clavigera. Only at certain times of the year they turn bright red, and in combination with yellow sand and blue water are unforgettable picture. (Photo: Twisted Sifter)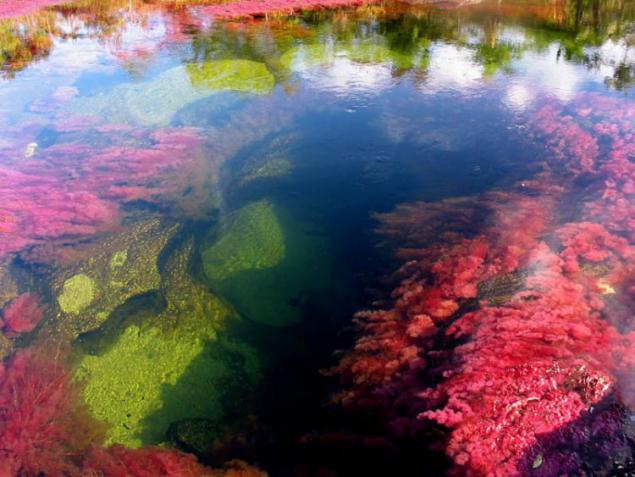 8. Iguazu Falls, Brazil and Argentina
Roaring Iguazu Falls are located on the border of Brazil with Argentina. 270 waterfalls stretch for 1, 7 miles in width, and the height of some of them can reach 269 feet. It is better to look at them from the Brazilian side, standing on a U-shaped projection, which is called the Devil's Throat. Here the water falls with such great force that is constantly worth echoing roar and a cloud of spray. Surrounded by lush tropical jungle of plants and animals, Iguazu Falls - one of the most beautiful places not only in South America, but also around the world. (Photo: Andrew Murray)