At Games time the Russian authorities set the bar room rates in Sochi hotel - not to hoteliers inflated prices. According to the Government, during the Olympics is unacceptable to demand more 13,896 rubles per night in a five star hotel. But luxury apartments political will is not affected, so respectable guests will have to pay a decent amount.
For this category of travelers have relied primarily built specifically for the Olympics hotels Solis, «Rodina», Swissotel Camellia, Marriott. Forbes collected the most expensive luxury apartments that host the Olympics. Price per night ranges from 50 to nearly 000 million rubles.
Solís Sochi Suites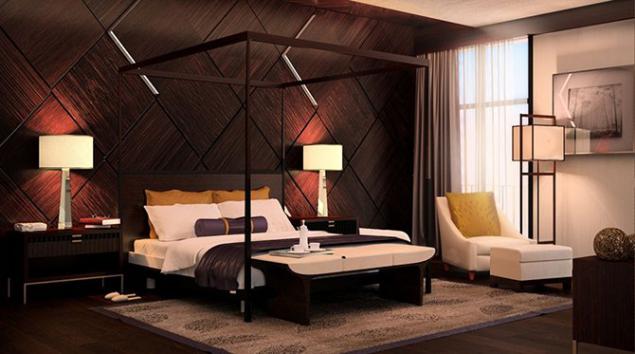 Cost per day: 850 000 rubles (unchanged)
Area: 583 sq. m
Solís Sochi Suites is ideal for secluded relaxation. It 52 rooms and suites, and each one is more like a private apartments: the area of ​​the humble Superior rooms are 43 square meters.
It is located at an altitude of 960 meters above sea level, in the resort complex "Gorky-Gorod". The project is part of the resort village was developed by a team of Russian and European designers and architects led by Frenchman Pierre Diener, known for the design of Courchevel.
RODINA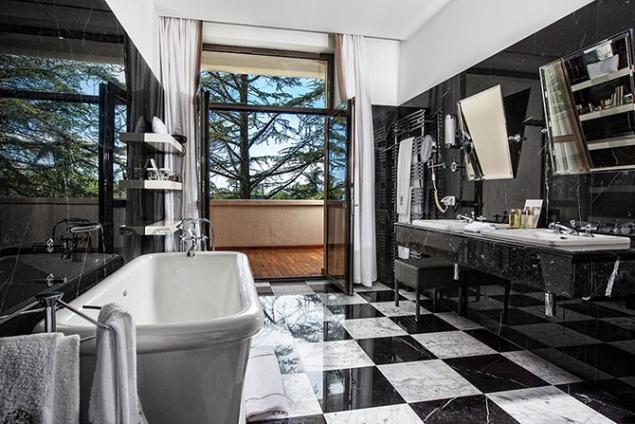 Cost per day: 230 000 rubles (unchanged)
Area: 162 sq. m.
Room Deluxe Suite Modern, located in the hotel RODINA, - one of the most prestigious in Sochi. The design of this suite, as well as the entire hotel, were engaged in the court of the Queen of the Netherlands decorators. Features three rooms: bedroom, living room with fireplace and a business office. The spacious walk-in closet and a ski fit shape, and dozens of dresses and suits. The highlight of this room - the Rotunda, the glass room with views of the Black Sea coast and the lush vegetation of the park. Floor of the deck boards and a number of sun loungers - in such an environment is easy to feel on board the Atlantic liner.
RODINA hotel offers many opportunities for walking. It is surrounded by a park with fountains and sculptures. If the weather is not conducive to outdoor recreation, relaxation, you can indulge in one of the largest spas in Europe, or visit the 3D-cinema.
Rixos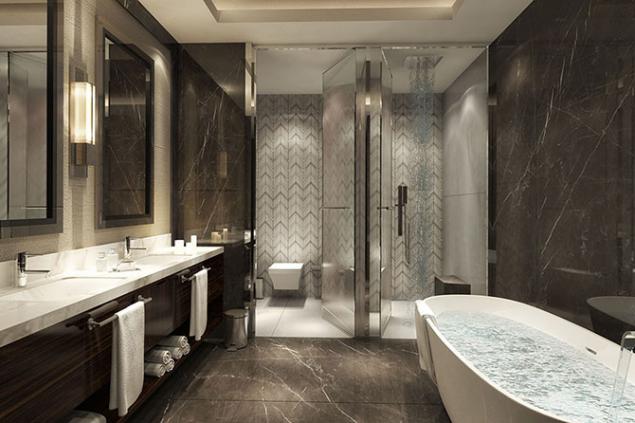 Cost per day: 57,000 rubles - low season, 102 000 - "Olympic" season
Area: 202 sq. m.
Living room, dining room, kitchenette, bedroom, dressing room and balcony smoothly into one another on an area of ​​200 square meters. m. These are the best apartments in Sochi Turkish hotel network Rixos. Interior design, contrary to the traditions of hospitality, simple, functional and discreet, which is well illustrated by the minimalist bathroom design. In the living room you can warm up by the fireplace of this, decorated simply but with a spark.
Rixos Krasnaya Polyana Sochi is located at an altitude of 960 meters above sea level, so perfect for guests who are not afraid of heights. Offer guests spa treatments, food at gourmet restaurants and contemplation of the Caucasus Mountains with all sorts of angles.
Swissôtel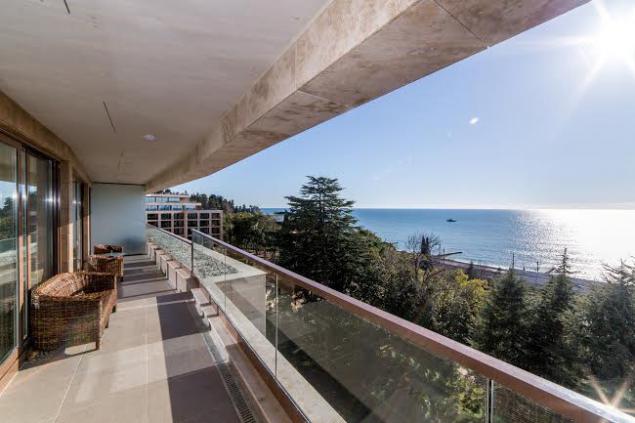 Cost per day: 100 000 - "Olympic" season; 80 000 - low season
Area: 320 sq. m.
Since half of the 320-meter suite at the Swissôtel Sochi Kamelia terrace takes his guests have a good chance to arrange the best tricks on the coast. Most persistent party guests can be left for the night, because in the guest room has a bedroom and a bathroom. The interior has a warm natural colors, materials - textured wood, white marble. In a variety of woven inlay image camellias, and live these flowers can be seen in the park surrounding the hotel. For greater privacy in the apartment has a second input.
Swissôtel is located in the natural park, with close to all major facilities in Sochi. Guests can relax in the spa and a private beach.
Kempinski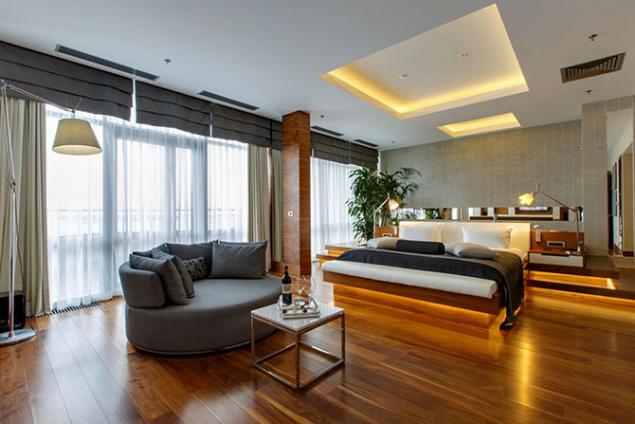 Cost per day: 80,600 rubles (unchanged)
Area: 198 sq. m.
In neighboring Sochi Olympic Gelendzhik less fuss, but no less picturesque. Great view of the open sea and picturesque Gelendzhik Bay - the main advantage of the presidential suite at the Kempinski. The rest - a classic five-star luxury: two bedrooms, bathroom and dressing room, living room and kitchenette.
At Kempinski features swimming pools, water slides, private beaches and even an open-air amphitheater.
Pullman
Cost: 45 000 rubles - the regular season, 55 000 - "Olympic" season
Area: 175 sq. m
The most spacious hotel room Pullman accommodates two bedrooms, living room, dining room and kitchen. Both rooms are equipped with Jacuzzi bathtubs and showers. Comfort guests provide details: exclusive cosmetics Roger & Gallet, coffee machine and LSD panel. Around the perimeter of the hotel stretches an outdoor terrace with breathtaking panoramic views of the Black Sea.
The Pullman is located next to the central waterfront Sochi. It offers guests a spa, a Mediterranean restaurant and a swimming pool on the 16th floor overlooking the sea.
Hyatt Regency Sochi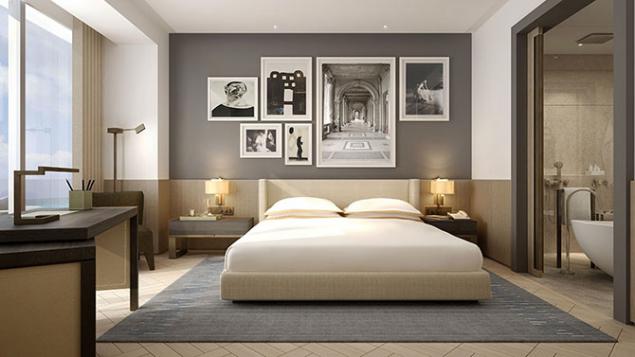 Cost per day: 50 000 rubles (unchanged)
Area: 200 sq. m.
Presidential suite Hyatt Regency Sochi - it's a bedroom with floor to ceiling windows, walk-in closet, spacious living room and a study. Not too catchy interior pays off excess space and light. Svetlitsa atmosphere complements the spacious terrace with a view, of course, the sea.
Hotel are structured specifically for the Olympics, and opened to the public recently. Its strategic location makes it the right to spend on the road to the sea less than a minute and enjoy a stroll along the promenade at any time.
Radisson Blu Resort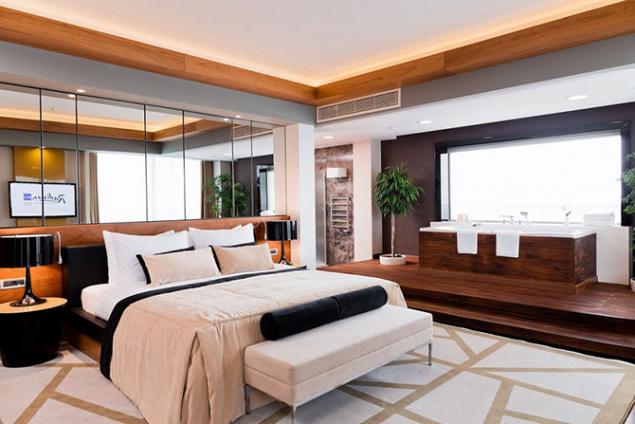 Cost per day: 45 000 rubles (unchanged)
Area: 140 sq. m.
Presidential Suite at the Radisson Blu Resort includes a bedroom with a large double bed, a living room with a dining area and a seating area. To this is added a mini-kitchen and work area, replacing the office. This suite features a luxurious bathroom with access to a spacious dressing room and a panoramic window. Guests can relax on the terrace overlooking the sea and mountains.
Hotel Radisson Blu Resort & Congress Centre is located on the beachfront, within walking distance of sports facilities. It has all the usual for a hotel of this class of services: health and beauty center, fitness center and spa, restaurants.
"Russian Seasons»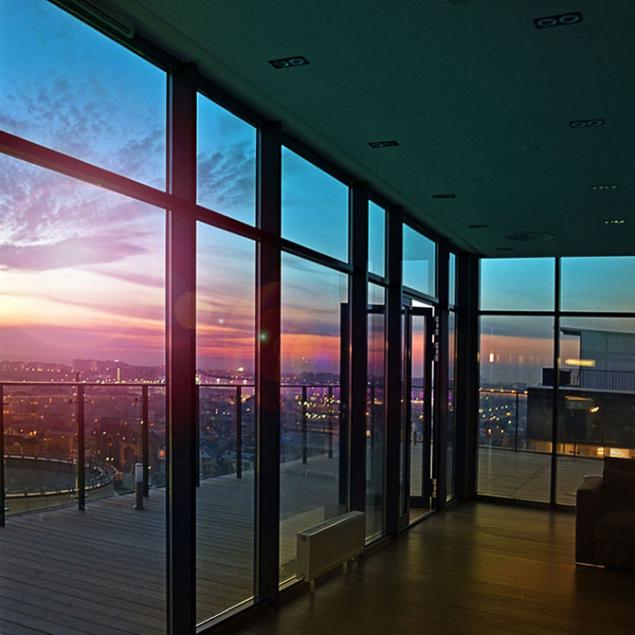 Cost per night: 150 000 - low and middle season; 250,000 rubles - high season, 13,896 rubles - "Olympic" season.
Area: 310 sq. m.
Guests who choose apartments - two bedrooms with king size bed, a large dining table for 10 people and a separate kitchen. The main bathroom is decorated with Italian marble. Here there is a shower, and Jacuzzi. Also in this issue not only arranged the living room, but a separate bathroom for guests. The suite was a place and a hammam.
The hotel is located a 10-minute drive from Sochi airport. It has a luxurious spa international network Espa and two restaurants, one of which offers a high Russian cuisine, and the other - high-quality beers at a more simple snacks.
Marriott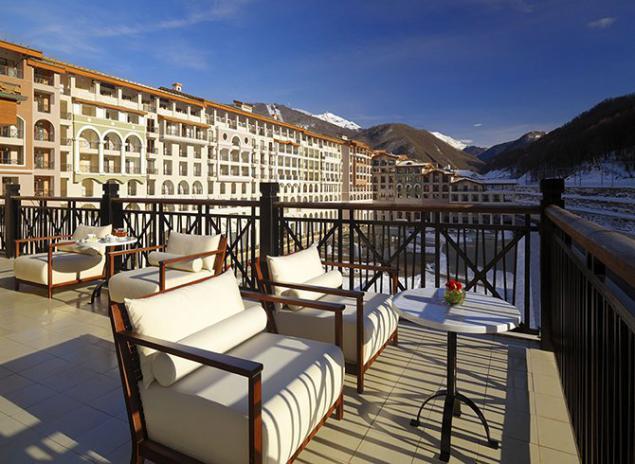 Cost per day: 55 000 rubles - for the year; 13,896 rubles (the maximum allowed by order of the government) - in the "Olympic" period
Area: 240 sq. m.
Bedroom, living room, dining room, study and bedroom again: the Presidential Suite at the Marriott is designed around. Thanks to such planning a full-length stretches rooms closed terrace from which you can admire the snow-capped mountain peaks of several. The interior is most easily described as a natural and unobtrusive, but without vignettes, chandeliers and mirrored tables, there has not been.
The Marriott is located in the heart of the resort of Krasnaya Polyana near mountain river. Without departing from the territory, guests can visit a night club, wellness facilities and a swimming pool.