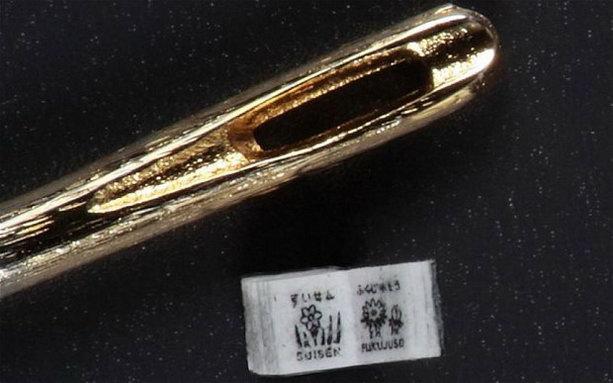 In Japan, produced the smallest book in the world under the name «Shiki no Kusabana», which translated from Japanese means "Flowers of the four seasons».  
The book, the size of 0, 75 to 0, 75 mm, is a guide to all the flowers and plants in Japan, and on its production took more than eight months.
The manufacturer "Toppan" hopes the book recognized according to Guinness World Records the world's smallest. In the 22-page micro-book called "Flowers of the four seasons" are shown illustrations of Japanese colors in monochrome.
In order for you to represent its size, the authors record the work done comparative picture book on background needle's eye. Even the glasses do not help you see what is depicted on its pages.
And in order that people can see a miniature book, the company "Toppan" produced it on a larger scale with a special magnifying glass. Cost is such a gift to approximately US $ 300.
Now the company applied to the Guinness Book of Records to officially register the record as their rival, Russian Anatoly Konenko from Omsk, in 1996 made a 30-page book, the size of 0, 9 to 0, 9 mm, which fit the story of Chekhov " Chameleon ».
Recall that the company «Toppan Printing» makes micro-books since 1964 and uses special technology to prevent counterfeiting.
Who is the smallest book in the museum exhibited Toppan Printing in Tokyo.
Besides the little books, publishers and make the greatest book that can hold only two adults!