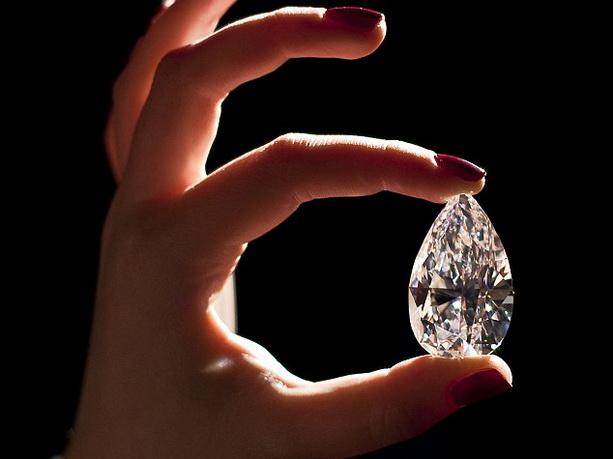 Absolute perfection: the world's largest "perfect" pear-shaped diamond is put up for auction Christie's for $ 20 million.  
Experts claim that the extremely rare gem, faceted 236-carat diamond, meets all the criteria (perfect color and clarity), so perfect.
Initially, such a rare diamond found in the world's richest diamond mine Jwaneng in Botswana, he would make an excellent, even perfect diamond of 101, 73 carats, which twice exceeds the dimensions of the same "perfect" 50, 52-carat diamond color D, which was recently sold 9, $ 4 million.
To get a table of diamond beautiful and even the perfect diamond, it had to grind for 21 months.
Now, the biggest diamond in the world will be auctioned Christie ''s on May 15 as part of the exhibition "The magnificent jewels sale» (Magnificent Jewels sale) at the Four Seasons Hotel Des Bergues in Geneva.
The lucky purchaser will also get the privilege to name a luxurious gem.
Gemological Institute of America reported that the pear-shaped diamond has the best color, D, and the ideal of transparency, and yet less than 2 percent of the diamonds in the world meet similar criteria.