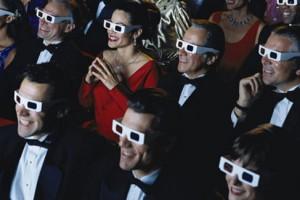 During the conference CinemaCon 2011 by Dolby Laboratories were announced 3D-glasses Dolby 3D glasses new generation.  
Dear 3D-glasses in theaters will replace higher-quality and low-cost / be-in.ru
New glasses, the assurances of the developer, combine high performance, stylish appearance, high level of comfort in use and affordable price. In the glasses using optical glass on the basis of a multi-layer optical film 3M. This reduces the weight of the finished device without impairing the optical properties of lenses. Furthermore, the surface of the optical lens is resistant to scratches and has an anti-reflective coating. In case of contamination can be cleaned glasses. Around the lens frame is implemented to prevent ingress of the field of view toward the light source. In the glasses of new generation realized the possibility of radio frequency identification. The new model of Dolby 3D glasses designed for use by adults and adolescents. However, the assurances of Dolby Laboratories, in the next quarter is also planned to start production of glasses for children.
It is expected that the glasses Dolby 3D glasses will be available in the near future. They will be available as a part of Dolby 3D bundle kits for Dolby 3D Digital Cinema, as well as individual products. At the same time, the recommended retail price points with a single sale is $ 12, and a part of them sets the price will be even lower.