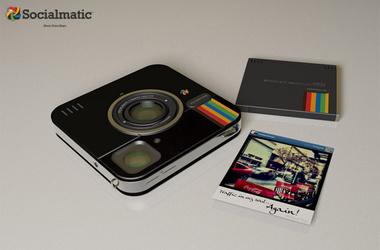 The camera can take photos, to apply "filters" to publish the pictures in social networks and print them on paper.  
The company will release the Polaroid instant digital camera Socialmatic, designed for fans of the photo-sharing services like Instagram.
Socialmatic camera to take pictures, to apply "filters", to publish the resulting images on social networks, including Facebook, Twitter and Instagram, and print images on the paper. The camera will be released in 2014.
It is known that Socialmatic will touch 4, 3-inch screen, 16 gigabytes of RAM and Bluetooth and Wi-Fi. It is expected that the camera will be running Android. The camera has the ability to change the lens.
Draft camera Socialmatic introduced in May 2012, the company ADR Studio. The front panel of the camera icon reminds the application Instagram, which, in turn, created based on the instant camera Polaroid OneStep.
Camera Socialmatic will be a joint project of ADR Studio, Polaroid and the company C & A Marketing, which will release a line of accessories for the camera. The line will include filters, bags and interchangeable lenses.
Polaroid released at different times, cameras, scanners and film, but is best known as a producer received instant cameras. In 2008, the company declared bankruptcy, however, has continued to release photographic.