Thermometer - no less than scandalous person, other than a pop star. We remember the brightest news related to the cold.
Frozen Niagara Falls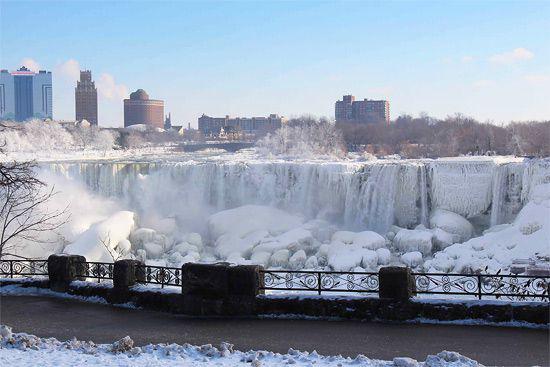 1. In 2010, the Dutchman Wim Hof, nicknamed "Iceman» (Iceman) set a new record for the stay of the person in the ice: the eyes of the residents of Tokyo, he spent in a transparent tub filled with ice for 1 hour and 44 minutes. Similar record for street magician David Blaine Wim Hof ​​speaks disparagingly. According to him, Blaine "has not shown particular resistance to low temperatures, because he did not have direct contact with the body with ice».
2. In the Siberian village of Oymyakon in February 2013 was recorded the lowest temperature ever measured in the village: minus 71 degrees Celsius. For years Ojmjakon and located 1,000 km north of Verkhoyansk competed for the title of the coldest village Earth. Now it is finally secured the title for Ojmjakon.
3. The coldest place on Earth's surface has been found in Antarctica - the Japanese station "Dome F" at an altitude of 3786 meters above sea level. February 20, 2013 the air temperature is minus 91, 2 degrees Celsius. However, Russian scientists with skepticism took this news. Director of the Hydrometeorological Center of Russia Roman Vilfand said: "If it comes to that temperature parameters fixed satellite, I'm not sure this is the correct data».
4. In Omsk, since 1991 held the so-called Christmas in the half-marathon distance of 21 km of 97 m, officially recognized the coldest race in the world. In 2001, for example, about 500 sportsmen from Russia, the Netherlands, Hong Kong, Germany, the UK, Italy and others ran a race with an air temperature of minus 40 degrees.
5. The most expensive refrigerator in the world produces Italian company Meneghini La Cambusa. They are made to order and encrusted with precious woods on the customer's choice. The cost of one such cooler - about 41 thousand dollars.
6. In January 2014, an unprecedented cold swept the US and Canada. Due to the abnormal cold cold even Niagara Falls. Part of the mighty waters of Niagara froze and turned into huge icicles, whose height exceeds 50 meters. Meteorologists predict that soon the cold front leaves the United States, and the expected warming will melt the frozen water.
7. 8 December 2013 band Metallica gave a concert in the Argentine scientific station Carlini, located on the planet's coldest continent - Antarctica. On that day, Metallica became the first band music, played all six continents of the Earth, but only the second team that competed in the Antarctic in 2008 Californians ahead ensemble Nunatak, comprising scientists from the British Antarctic base Rothera Research Station.
--img2--
Metallica
--img3--
Source:
www.mhealth.ru