Lovely as the world theme pregnancy sweeping Hollywood punctually. This is no accident - in the last twenty years, producers have created a haven for young actresses: paid nanny contracts, kindergartens and schools on the set - a beauty!
Let us today, not on clothes for holidays and red carpet, and the daily "star" clothing.
So Pink in all its glamorous punk glory.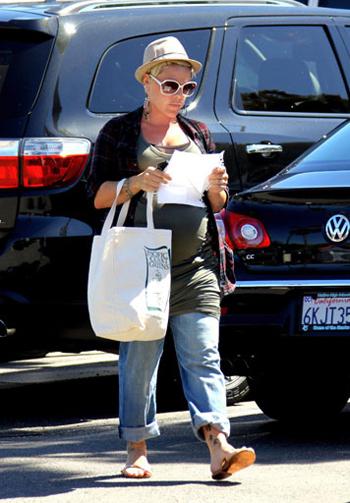 Pink, as always, nothing to fear. Sandaliki barefoot, shapeless T-shirts on one another, men's plaid shirt - well, what to say. Sharma gives the mini hat and glasses in the spirit of the 60s. In general, it is good - strong, such a path is not sobesh! 8 out of 10.
Tori Spelling
Clever-beauty-tycoon's daughter Tori always great. Swimsuit good - emphasizes tightened sports figure. Nails and brooch give glam-rock charm. Photo obviously made a fellow photographer is not very much for the cover. But still it looks great. 10 out of 10.
Katie Holmes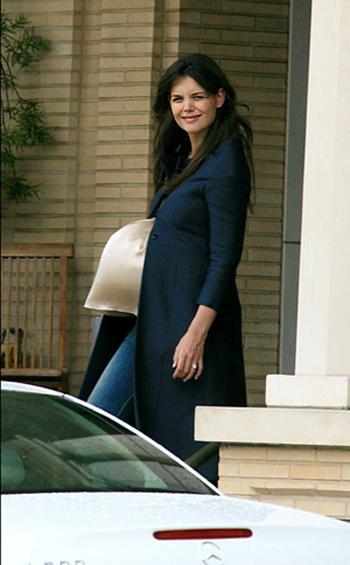 Little wife of Tom Cruise carries himself like a saucer. And that is very cute - strict blue coat dzhinsiki and here is such a golden belly. Beauty! 10 out of 10, of course.
Paris Hilton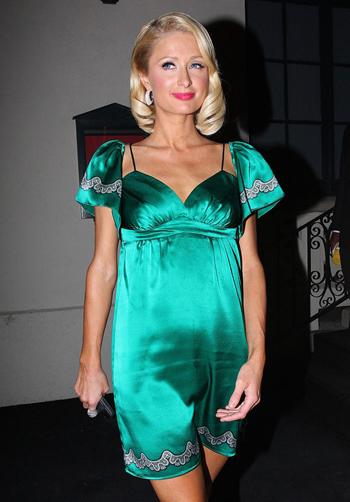 Daughter Paris hotel magnate pregnancy clearly benefited - it ceased to be a pathologically skinny. Love Girl Barbie is visible in the suit for pregnant exit. Cozy sarafanchik - glossy aqua with pink embroidery - well, how can we resist! Although, in my opinion, more like a nightgown ... But it is - and this is the most important thing!
8 out of 10.
Jolie
Well, where do without Jolie with her brood! Home Mom America looks stunning. Greek dress gentle plum tones perfectly emphasizes the beauty of the body, Jolie seemed to hover above the ground. In vain she lost weight after giving birth, I promise. 20 out of 10.
Victoria Beckham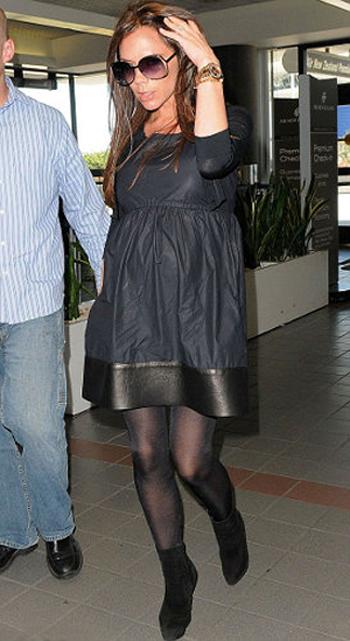 Who better, and I Victoria Beckham can not stand. The eternal desire to look perfect often turns it into a doll. Here, her blue-black dress with leather trim - basically nice, but it is too dark. But, probably, in style. But the main thing that most mom was comfortable. Huge glasses salnovatye hair - well, I do not know ...
5 out of 10 in the best case.
Carey
Carey done - why wear a sophisticated concert dresses, so when I want to put on a T-shirt stretched? Well, that was not quite so simple, slender legs emphasize the smooth, short leather skirt and long coat to the floor. I like! 9 out of 10.
Natalie Portman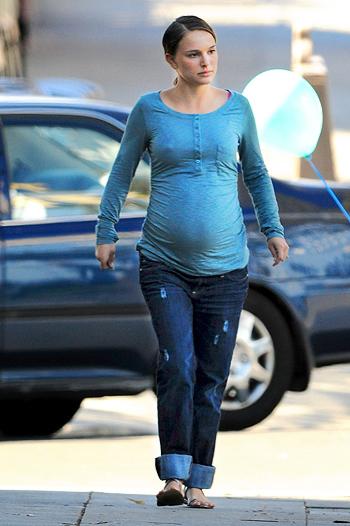 Mila, round, blush, a figure very pretty. Comfortable sandals and dzhinsiki with cuffs look good. But this dress-sweater ... Pocket on the left side of the chest makes the flat, the length of the sleeves and sweaters are not very successful. While here to Natalie, it seemed important to the convenience - the fabric is soft, nowhere did not contract. But the color is nice and beautiful neck - she goes. 7 out of 10.
Selma Blair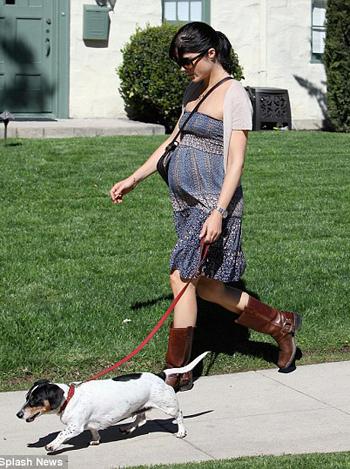 I think that's funny. For daily walks with the dog is even nothing: no annoying tights, uncomfortable jeans trousers. There are nice little legs in boots and comfortable sarafan on rezinochke. Color that's just paly, but that's as anyone. 8 out of 10.
Penelope Cruz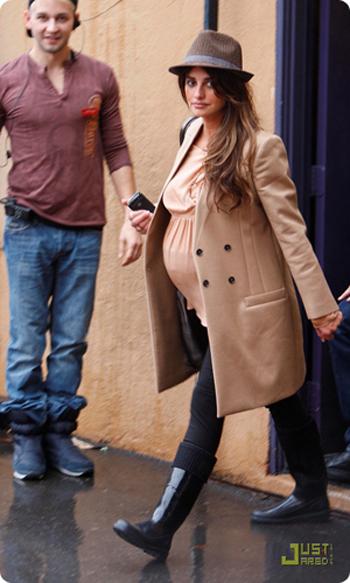 But the beauty is! You are no high heels, no hard textures - all nice, cozy, comfortable and stylish. I like the color - pale cream, it perfectly emphasizes Penelope olive skin and makes it more visible and thick hair, and when combined with black - bright eyes.
Very well - 10 out of 10!
Photo: celebrity-gossip.net, justjared.buzznet.com, people.com