28-year-old Olivia Wilde is not known for the roles played brilliantly, but takes the other - an attractive appearance. This actress simply stunning beautiful men, indifferent to the Description "Catwoman." Slightly slanted eyes, expressive cheekbones and dark hair color, acquired over the years, its main advantages. But in addition to these advantages it is worth noting a delightful style Wilde on the red carpet, which was also not original. Skill comes with experience ...
2003
Olivia began his career in the image of the blonde. This image to its external data is not suitable, but for several years it was just that, and even faded girl she interested the creators of the series "Skin". Charisma Olivia does not take away as not to take away and connections in Hollywood through relatives. At the premiere of the film "Uonderlend" 19-year-old actress has appeared in onions inspired by her favorite 70s.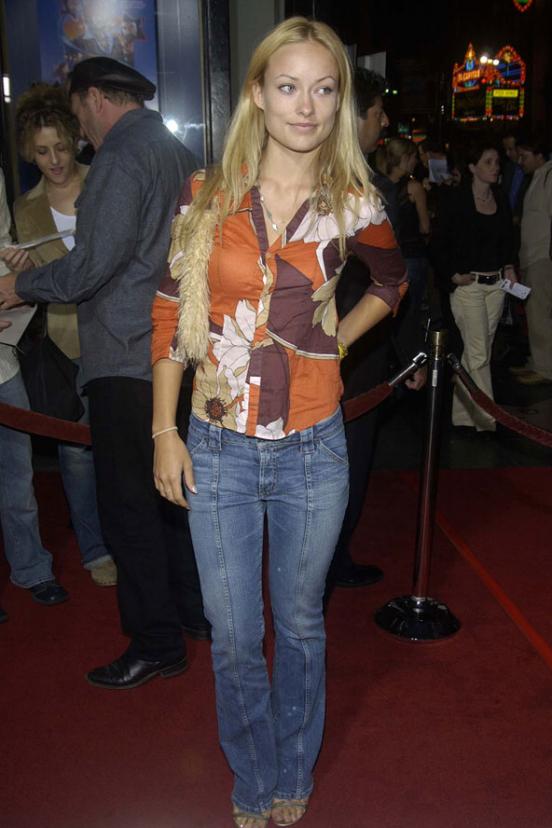 In the same year, Olivia "grown" from jeans and started wearing a midi-skirts. Firstly, to hide the stout legs, and secondly, to concentrate on her femininity. Her wardrobe this does not become better, but moving in the right direction the young girl began.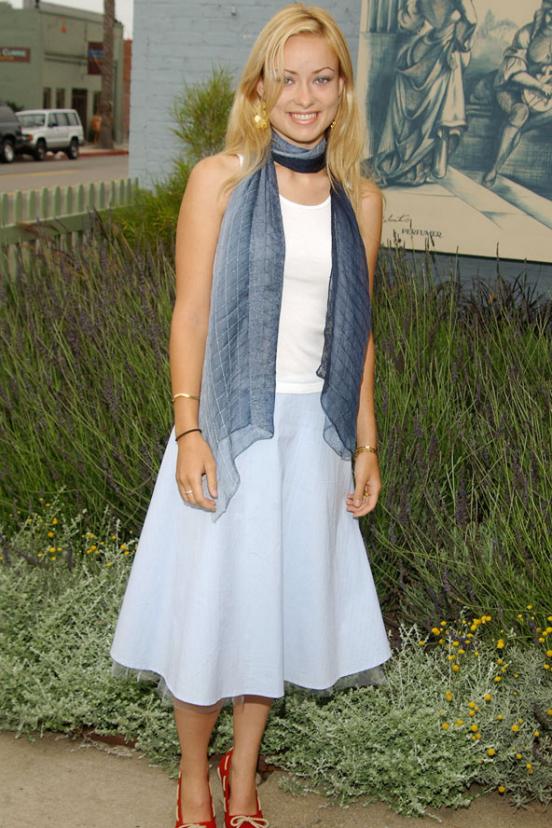 2004
Won a role in the popular youth series "The OC", 20-year-old Olivia began to explore in Hollywood, slowly approaching the more venerable celebrities. For her, it turned out to be a bit complicated ...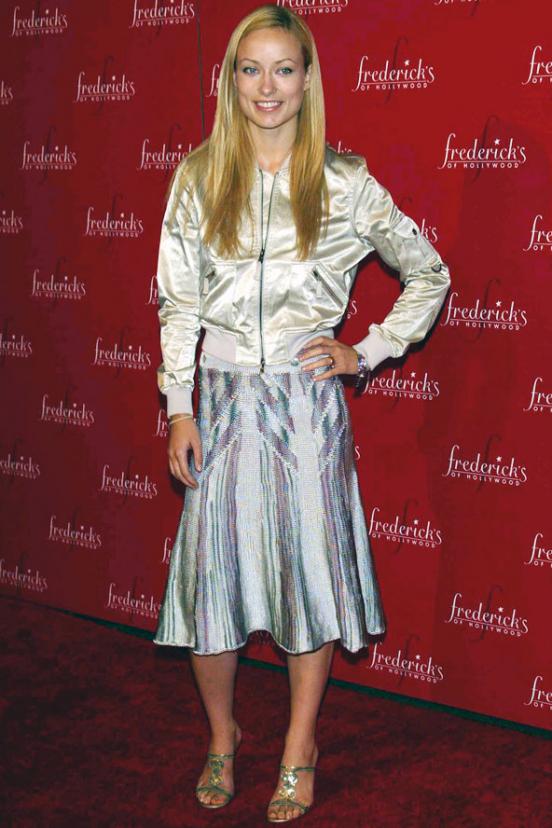 Nothing good in terms of style from her not to be expected, since Olivia very much did not want to part with the image of a simple girl, while plunging into the world of gloss. She wanted to stay as natural and pretty, but the entertainment industry is ruthless and Wilde had changed radically by 2008.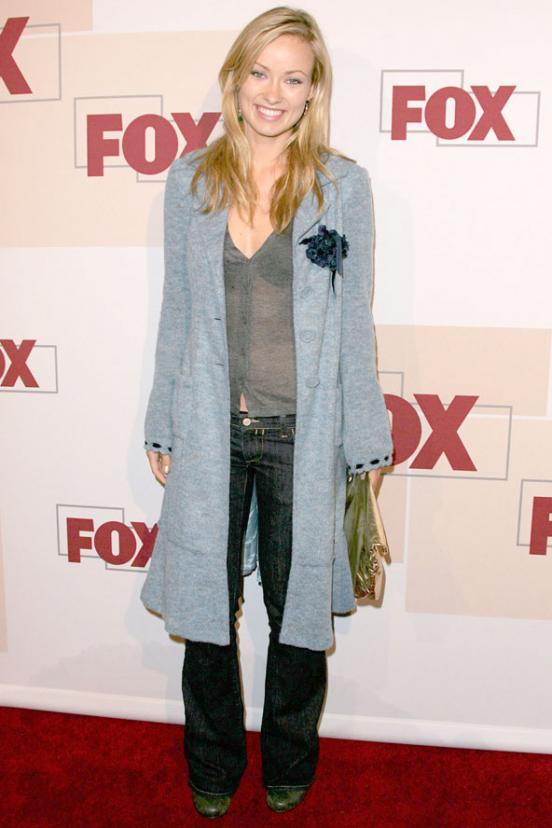 2008
Pose and looking thoroughly worked out. Burning haired Olivia wins its completely new way «Screen Actors Guild Awards». Glamour ohomutat her at social events, but not in life where Olivia is still running in sneakers and sweat pants (a paparazzi-Chronicle is clearly visible).
Satin fabric, gold accessories, drapery ... Aristocratic Beauty Award for Youth (dressed not quite to the point, but who does not happen?).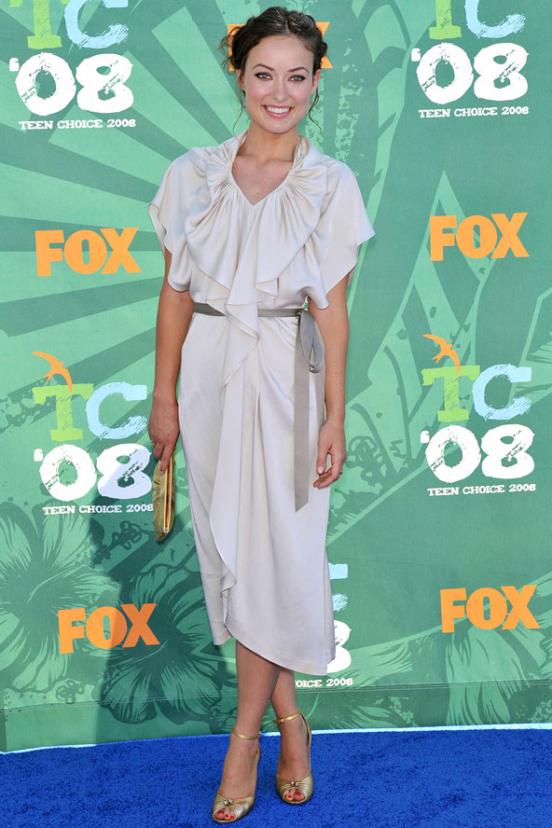 Incarnation of the classic Hollywood style - Olivia on the 60th ceremony «Emmy». Dress just fine, and Wilde in it - Princess!
2009
The fashion house Reem Acra creates exquisite dresses. The second in a row, but not the second most important dress Olivia's award "Golden Globe" is also battled me on the spot. So nice color and interesting texture, that dress does not need additional accessories.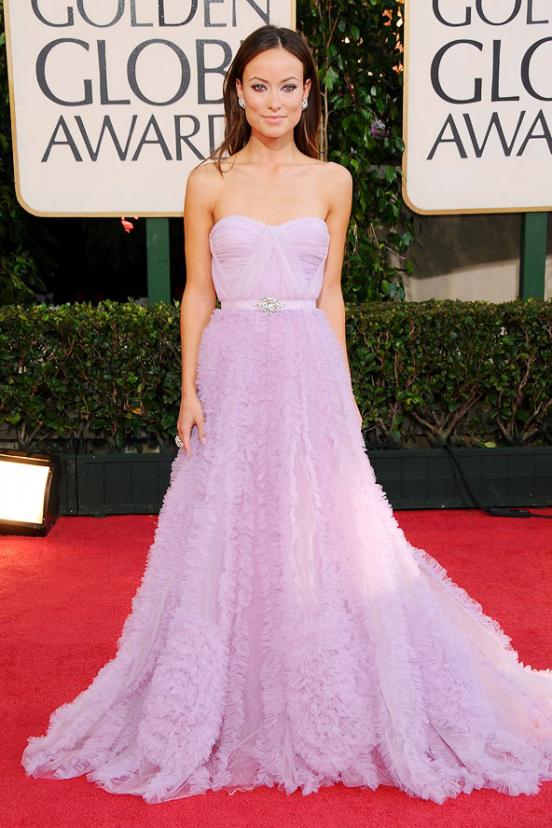 Blue satin dress perfectly village on the figure, but one Trouble - it emphasizes small breasts ... very small breasts actress.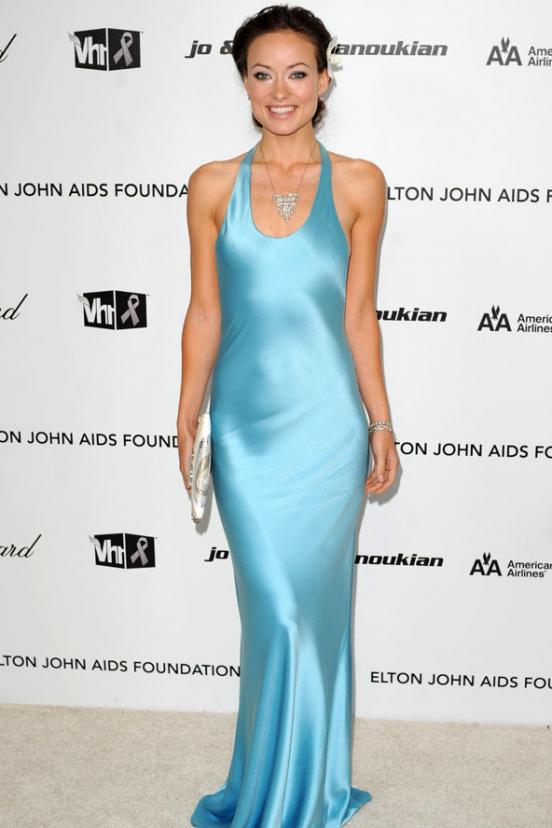 Designers of Marchesa with their multi-level approach to creating things never miss. Dresses have a very complicated, but what kind of wonderful ... no words. In this creation, the star of "House" marched on the red carpet «Emmy».
Appearing in a black translucent cocktail dress at a charity event Olivia has established itself as one of the most stylish women in 2009. Laconic bows can also draw attention to themselves.
2010
"Alice in Wonderland" in the dress of Monique LHullier on the «People's Choice Awards».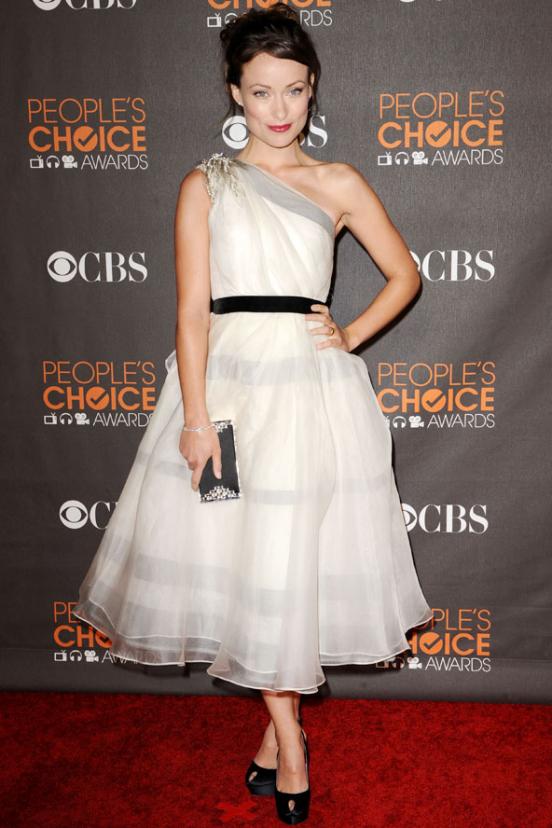 A little tired of the romantic and bohemian Olivia tried on a short neon blue dress with ruffles. Would be better if she did not, although now she knows exactly how see. Not open legs.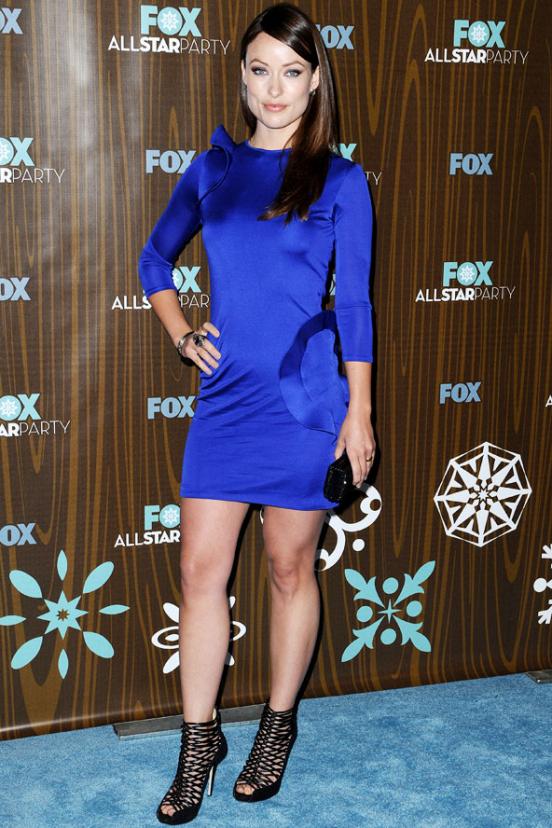 At the "Golden Globe" Wilde shone more than ever in a long dress shimmering Gucci, Jimmy Choo shoes and jewelry provided by Tiffany and Co.
Cute image, but not enough bright accents. Get the aesthetic pleasure is possible, but not fully.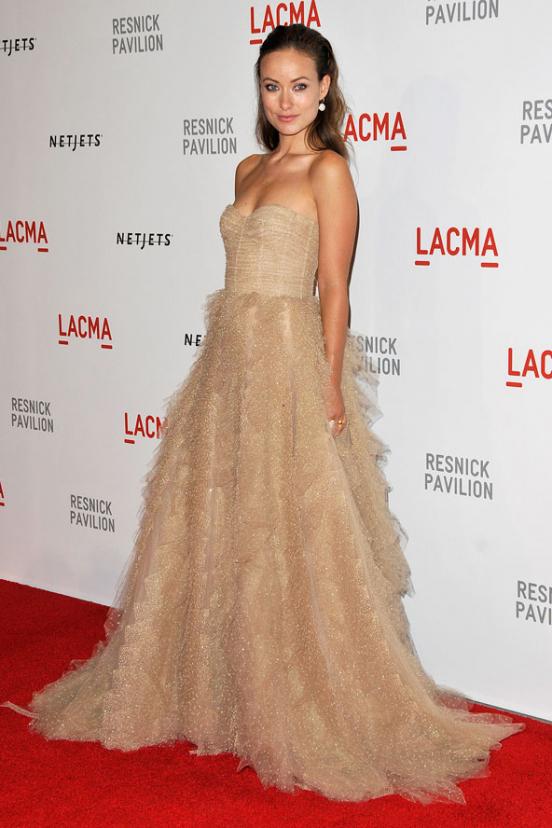 2011
Starry sky and lures Olivia, because the sign of the zodiac fish it, and they tend to stay in the dreams of something unearthly. On the "Oscar", she appeared in a magnificent dress Marchesa, which was more like a constellation than a simple dress fabric.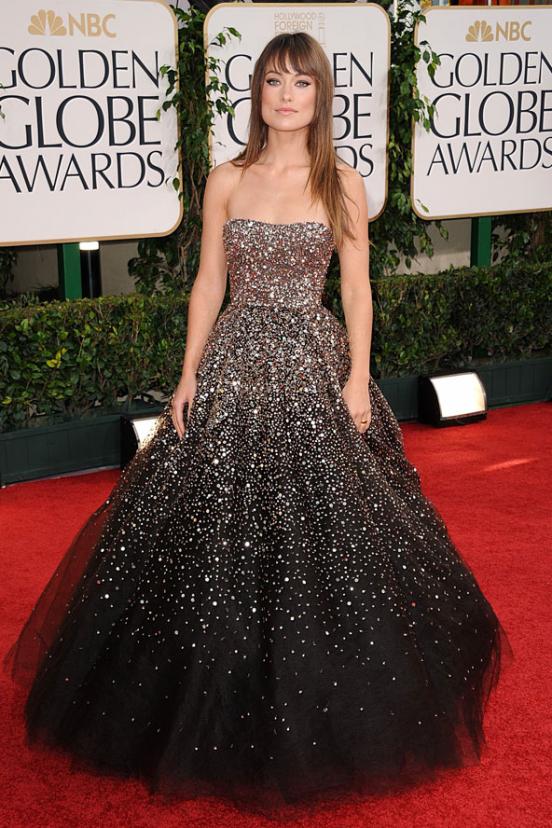 Trends "lace" and "smoky makeup" Olivia joined together at the premiere of "Cowboys & Aliens».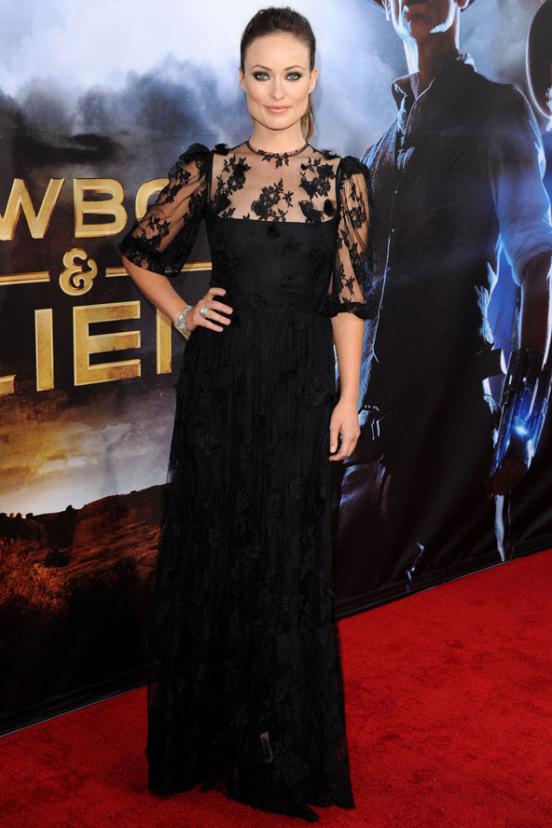 On the show comedy "The Change-Up" actress appeared in a bright autfite.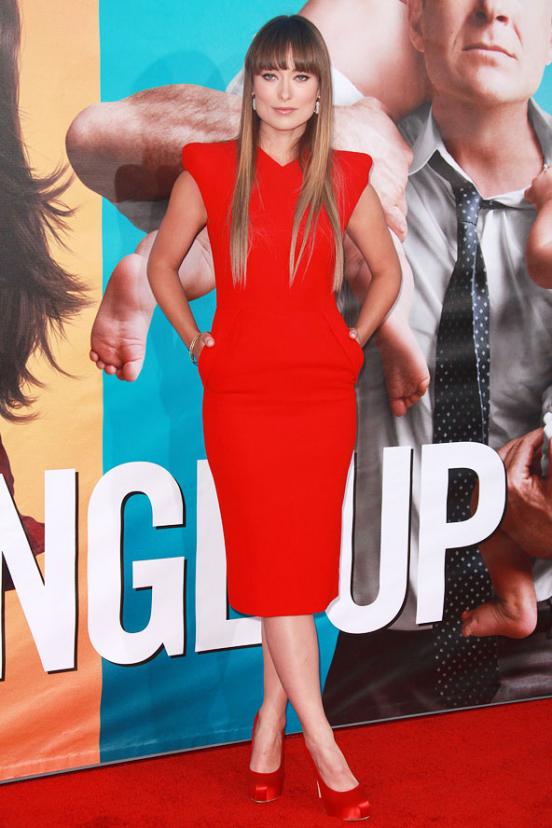 2012
Improving the style this year, too much ...