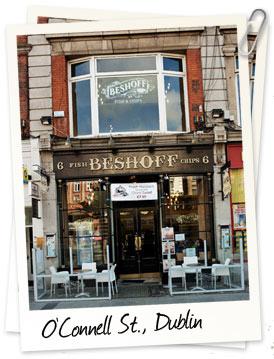 In the capital of Ireland, Dublin, on the house number 6 on the street Upper O'Connell Street, hangs a beautiful, old-fashioned and a bit pretentious sign - Beshoff Restaurant, Traditional Fish & Chips Established in 1913, Three generations of quality.
That is - "Restaurant Beshoff, traditional fish and chips, founded in 1913, three generations of high quality».
The founder of the restaurant, Ivan Beshov, was born in 1885 in a family judge in the town of Kherson province, 5 km from Odessa.
In 1905 he served on the battleship "Potemkin-Tauride", participated in the famous uprising. After the crew of the battleship surrendered to authorities in the Romanian port of Constanta sailors settled in the villages. Many decided to return to Russia, were court-martialed, went to be shot or sentenced to hard labor.
Beshov remained abroad. In 1914 he got a fake passport, went to Turkey. Thence by steamer went to her sister in the United States, with a stop in the UK and then Ireland.
In Ireland, it was declared a Russian spy, was arrested and put in jail. After his release, Beshov decided not to go to America and went to work in the oil company Russian Oil Products. When the company went bankrupt in 1922, then decided to open Beshov diner, which eventually grew into a network of fish restaurants.
You may have noticed the discrepancy signs and dates this base. The sign stands in 1913, when Beshov arrived in Dublin, but judging by the biography of the hero, it was probably the year 1922 th.
Generally, Beshov dates excess of pedantry is not observed. According to some sources he was born in 1885, on the other - in 1882. He died Beshov October 25, 1987, when he was not 102, not 104 years.
The local newspaper wrote: "Died Ivan Beshov, the last of the participants mutiny on the battleship" Potemkin ", which became the forerunner of the Russian Revolution. The rebels killed the captain and several officers.
The entire Black Sea fleet was thrown to suppress the rebellion, but the crew refused to fire on the rebels and the battleship was in free floating 11 days. Mr. Beshov said that in 1913, in London, he met with Lenin. Beshov stayed in Dublin, saying that in the sea it is no longer pulls ».
The reason for the rebellion, as it is known, has become worm-eaten beef, but in modern terms, "corruption component" was not there. Just porters rimmed procurement, nothing else could not buy. In Odessa, was restless, shops were closed.
Our story begins with wormy meat, fresh fish and ended.
With fried potatoes.
Dublin "fish and chips" is celebrating its first century of the third generation of the family Beshov.
Source
Your text to link ...