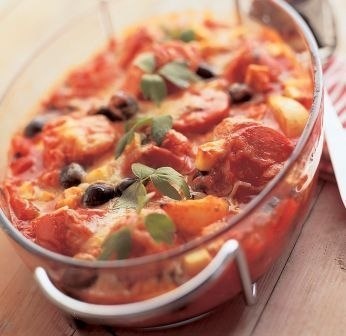 Ingredients:
1 ring n / a sausage
50 ml of ketchup with chilli
180 g of finished pieces of feta cheese
1 onions, sliced ​​
50 ml black olives, cut into rings
400 g of crushed tomatoes
pinch of sugar
1 tsp oregano
2 tablespoons chopped fresh basil
ground black pepper
100 ml grated cheese
Method of preparation:
Sausage cut into large slices, roll each in ketchup and put in a baking dish, pre-greased.
Lay on top of sausage slices of feta cheese, chopped onion, olive rings and crushed tomatoes, mixed with sugar, spices and herbs.
Sprinkle with grated cheese and bake at 225 C for about 15-20 minutes, until a beautiful golden brown.
Serve with pasta or mashed potatoes.
Tip: You can also add hot pepper, diced, and cherry tomatoes.