Another interesting story about the intricacies of an unusual profession firsthand.
The person who hears at work "yes", said who wrote speeches for wedding ceremonies and why the registry office should not take children.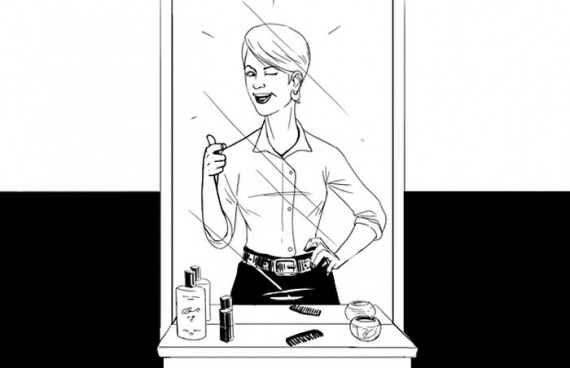 Get into the profession
As I am a psychologist, graduated from high school, but work on a specialty soul is not lying. Took hold of the candidates at least threw and decided to get another tower - a legal entity. In the registry office came by accident: at the wedding of a friend talked to a number of standing woman, she was one of the officers. Whether the mood was romantic, then I was tired at the time of the endless interviews, but when I heard that they need people to the archive - agreed almost immediately. Then another thought to myself: "They are here every day a holiday." Yeah, like. I work in a registry office already seven years, but am just very ceremony registration only a year. Before that was a boring job in the archives, and then - receipt of applications. To trust you marry someone, you have to work for five years, no less. By the way, say that only women are registered, and here and there. We in the registry office as a boy worked, intern, so it made for a day mainly in the form of an exception. Newlyweds, of course, surprised, but did not complain.
Appearance
Appearance - a sore subject. We work in a state organization, and we pay appropriate: for example, I get barely 30,000 rubles with all allowances. But at the same time you need to look as if you get 100 000. That is, to clothing, of course, not find fault. The main thing that was an official appearance: light suit (black and white, for obvious reasons, it is better not to wear), soft makeup, no mini, personal calling.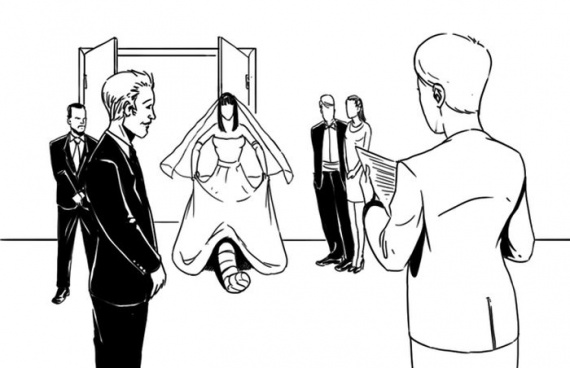 Add to this the daily styling, with "and so come down" is not going to work: you do realize that people have a holiday, all dressed - and here you go ... do not want to look like a scarecrow. In the morning, think like a joke: "Let them get some sleep, but not made up" - but then you realize that you will be featured on the wedding photos, and even people you might remember for a lifetime, we have to fight against laziness and fatigue. I'm 36, most of my colleagues for 40, but we are trying to move away from the stereotype of "the registrar's office employee - a woman with high hair and voice party worker».
It
I have to say, programs for the ceremonies we write ourselves. According to the structure they really are fairly standard: "Today, on a certain date in the Palace of marriage number two registered marriage (followed by the names). Family - a union of two loving people, and voluntary union. Before registering your marriage, I am obliged to ask you whether your desire to marry a sincere, free and deliberate. Please reply to the bride, the groom ask to respond, and so on. " Of course, we are not robots, and sometimes, you can replace a word, accidentally forget the phrase, say, instead it is something else. But firstly, this is rarely someone notices, secondly, many variations not specifically. The main thing - to say something good and no double meaning. The issue of consent - not a formality, we really need to know what rights have resulted in a registry office not by force and he is ready for marriage. So to say there is not even a joke do not advise: registration will have to stop. On-site ceremonies it is usually more informal. The couple can ask to speak a peculiar phrase for them - we always meet. Probably no secret that weddings visiting people usually quiet pre-painted in the registry office, and then the whole ceremony - just play. Therefore, we can practically every whim. Several times I led the ceremony with music, such was the desire of the newlyweds. Thank God, some classics was.
The funniest situation during the ceremony happened to me in the summer. Couple solemnly enters the room, begins with the usual "hurdy-gurdy" like: "On this solemn day we are gathered here ...". The bride looks around, whispers something to the groom, in the end both are nervous, look around. We were taught such things do not pay attention, so I calmly continues. A minute later, the whisper goes into sobs puzzled already "in the gallery", people rushing, but nothing no one really can not say. In general, it appears that the guests gathered in the hall is not from the couple who need it. Why are they so much time looked as if they marry strangers, it is difficult to say. The situation is, of course, razrulit. We apologize, led from the lobby right friends, the ceremony begins anew. Thank God that the pair still got a sense of humor, do not become a scandal to arrange all joked that it was necessary to take another ring pads faster - they were more expensive.
Queue
Such a mess, as in the first Palace of marriage, we, of course not. Although the first day of submission of applications also hold queue from 6am. When I sat on the acceptance, offered money, with sometimes without even asking whether the date is free. Some numbers we adhere to specifically say that everything is already taken, but a couple of free hours there, just in case. They just "sell" workers. Usually it happens like this: "And you do not want to get married instead 10.12.12 12.12.12? True, have to pay a little extra ... "Well, what? Everyone gets out as he can. Cranking is not often succeed, in recent hype marry once slept, so that empty spot in the schedule much. Traditionally, many people want to get married on February 14, July 8 and beautiful choice. I can not imagine why couples is so important, the question of aesthetics, I guess. Well, in May, of course, also available every year for a dozen weddings a month - maximum. Do you want to quickly get married - safely plan the May holidays. About the fact that "all my life to suffer" - nonsense complete. Toil you will be with a man who does not suit you well, or you gash, "My dear, not only in May - a bad omen».
Bride
Why have not I seen enough: fainting, hysteria, crying, laughing, one ikala entire ceremony, the poor. Were the bride and groom, as they say, tipsy, with evident that people just drank on an empty stomach and not calculated, but the groom had to hold fast to her arm. Escaped not remember, I think, if doubts arise, it is no longer in the registration hall. Such as a movie, to a horse to get away from the wedding, there was never any for me, none of my friends colleagues.
In general, the heroism of our girls I am amazed. They are unperturbed in any situation: I have had plenty of cases when the bride comes in a cast: one hand, one foot. The one that with the foot, the entrance to the hall as if she's the queen, and nothing that a couple of steps it is literally on hand to carpet was told. On the one hand, it seems romantic and, on the other - such dedication on the part looks even intimidating. And still very evident when a girl plays on the audience or the photographer. I know, of course, that it's unprofessional, but for such and do not want to try. Rolls back a mandatory program, smile mechanically - because it does the same thing, so we're even, I think to myself.
Dresses - is a separate issue. Girl, lovely, I understand you piously believe that it is only your wedding and so I try to show all the best in this world, but count your strength. And ours too. I'm in my lifetime I can remember two cases when the bride with her dress at the door did not pass. The skirt was seven rings, one larger than the other. We have it with the guests literally push through the hall. One of them immediately wail, it's a sign and it should not get married. I said to her, "Wait, my dear, you're still on the door was not included, about to marry later think».
Grooms
The most ridiculous situation where the groom thinks too long to the question "Do you agree? ..". And most importantly, in real life it's just something about five seconds, and there, in the hall, they seem like an eternity, even for me. One young man said, after a long deliberation, "Yes" - so the bride has issued such a sigh of relief that, given our acoustics it was just a moan. Hall just collapsed with laughter, and even I could not stand it and smiled, though, in principle, it is not permissible. More men are like phones do not disable. They are, as I understand, in principle calmer refer to the process. So it happened more than once that the registration interrupted by incoming text messages or call. And the more stupid melody, the funnier. Okay normal ringtone, while some of the groom's melody Comedy Club began to play, about the fact that "every Friday he r * contrib". Friday was not like, but also in the subject.
There was another case in which the ceremony was almost broke. Guests arrived, the bride is ready, and the groom's still no. And on the phone, as I understand it, he did not answer. All right, we think, the poor girl, now will be tears, tantrums, screaming "all men goats." But was not missed: awesomely promising that more will come back, left, telling guests not to disperse. Four hours later returned already two, swore, however, as if the divorce came. It turned out, the man slept: Nightly alarmed, took something and did not hear the alarm clock and the phone sat. Bride at the door an hour spent, but ultimately painted them. Generally, when a pair of late, we try to meet them and to another date not to transfer. And in the case of force majeure linger themselves at work, understand the fact that tomorrow no banquet, no limos transfer them fail.
Children
Take children to the registry office - the worst idea that may come to mind young. And here it does not matter whose children - or their friends. They are imbued with this nervous situation and immediately begin to reflect. Cry during registration 90%, and not in secret, as a witness, and cry cry. Add to this the parent fussing with trying to calm them down, slaps and threats - and the wedding spoiled. Most of all I feel sorry for the kids who have taken on the role of the groomsmen or cupids, dressed in tuxedos and wings or forced to carry the train. How I saw weeping bride with a dirty, broken dress, do not pass. And all because it is not necessary izgalyatsya and try to imitate western wedding. Leave the child home or hire a nanny to him, even if it amuses him in the lounge - we have, for example, a separate room allocated for the nursery. We are seated in front of the guests always tactfully hint: "I do not want to leave the child with a teacher for half an hour? And you well and the child joyfully. " Agree for some reason the unit.
Professional look
No, at a glance, what will be the couple married life, I can not. Although sometimes bet with colleagues conclude, but they forget then to whom argued, such a flow passes through us. One thing I can say: the simpler the pair belongs to the ceremony, the greater the chance that everything will go smoothly. Yes, and they themselves have an opportunity to really be involved in the process. Plan everything possible, so the ability to relax, regroup, if not to give up and have fun at your leisure much change for the better. Then even the worst in the world record, the missing witness, does not fit on the ring finger will not spoil the fact that on this day you became husband and wife, this is important.
Source:
www.the-village.ru
Random page