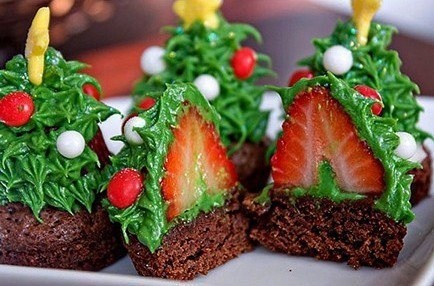 Ingredients for cupcakes:
 - 3 cups flour
 - 2 cups of water at room temperature
 - 1.5-2 cup sugar
 - 6 tablespoons cocoa
 - 3-4 tablespoons vegetable oil
 - 1.5-2 tablespoons vinegar
 - 2 tsp soda
 - 1 tsp salt
 - 1-2 tsp vanilla sugar.
Ingredients for cream:
 - 250 g butter
 - 500 grams of powdered sugar
 - 5-8 tbsp milk
 - Vanilla
 - Salt
 - Food color green.
Ingredients for the filling:
 - Strawberries (large berries).
Ingredients for decoration:
 - Packaging M & M's or other pills
 - Cookie-stars or asterisks Kosmostars from Nestle.
A method for preparing cupcakes:
1. Mix all dry ingredients: flour, sugar, cocoa, baking soda, salt and vanilla sugar. Sift 2 times through a sieve.
2. Pour the vinegar, then oil, stirring all the time every fork. Not beating!
3. Pour the water and mixed. Not for long. Not beating!
4. We spread the dough for chocolate into molds Kesik and bake 30 minutes at t 180-200 degrees. From the resulting mass is roughly 24 cupcakes.
A method for preparing a cream:
1. Soft butter carefully whisk in a solid white mass. Sift the icing sugar and add to the weight.
2. Add the vanilla and salt, food coloring and mix thoroughly vzobem. When you receive an elastic homogeneous mass - add milk (cream to desired consistency). All this whisk for 5-7 minutes.
A method for preparing decorations:
1. Brush the cupcakes with a cream and berry fix.
2. Place the cold to Strawberry good snaps.
3. Take a pastry bag with a star-shaped nozzle of the smallest, put back our green cream. Starting from the bottom edge of the circle begin to squeeze spruce branches on the berry. Puts the tip of the nozzle to the berries and begin to squeeze the cream until you squeeze a column about 1 cm, then stop push and comes off hand with kornetikom. In early stop to press and only after that they turn away. Do so on a circle to the top, try to arrange the columns in a staggered manner with respect to the previous row.
4. Ready to decorate the Christmas tree pills with an asterisk.