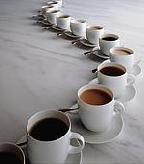 After drinking 14 cups of espresso, kofemanka almost died.
17-year-old waitress from the British county of Durham (Darem), to cheer up after a stormy night carried out, one after the other drank 14 cups of coffee.
After that, the girl quickened breathing, pounding heart and fever. In serious condition she was taken to hospital, where doctors recorded a lethal dose of caffeine, three times the maximum allowable daily rate. A lover of coffee after many days of treatment released home, but now can not look at coffee and tea drinks are now only.