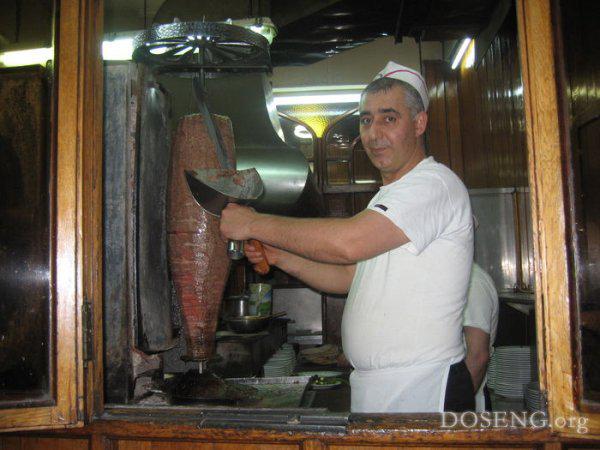 The scandal over the supply to the capital of Bavaria, meat waste is becoming more widespread. It seems that most of the products unfit for food came it to Berlin.
In late August, fans Dehner once again thinking: what, in fact, they ate in the Turkish and Arabic eatery in recent months? After all messages from the Bavarian town of Wertingen supplies to Berlin a huge waste of turkey and beef can not be described as shocking.
Outrageous stories start to unwind after a truck driver told the police about the suspicious behavior of one of the owners of the Bavarian company's meat processing. It turned out that some time ago a customer asked the driver to take the goods with meat waste, so-called "product labeling K-3" on the remote warehouses there and began glue labels. The driver to be vigilant and inform the police. The police went on the trail of meat intended for the manufacture of Dehner, and almost immediately found out that it is a huge financial scam. Waste that had to go to food animals after treatment Bavarian craftsmen already as high-quality meat fell on denernye skewers. Basically - Berlin. The cost of a kilogram of meat waste K-3 is an average of 50 cents, and after gluing labels on the same product already sold for one euro.
At first, it was about 1, 7 tons of "meat", then about 14, and then all of 20 tonnes. As the representative of the prosecutor's office of the Bavarian Memmingen, from June 2006 to August 2007, the company from Wertingen has delivered 160 tons of meat waste. While it is known only four firms receiving unfit for food products: they are all in Berlin.
It should nevertheless be said that he used to Dehner "meat" is not life threatening, it is just tasteless and can have an unpleasant odor. It is noteworthy that the very capital buyers sanitary inspection over product quality so never and did not apply. Almost all the goods K-3 was safely eaten!
Absolutely the same situation occurred in September last year, when the Berlin market has been thrown out 95 tons of spoiled meat. As then, the city authorities today to respond to this problem with a big delay. Senator for Health, a representative of the Left Party Lompsher Katrin (Katrin Lompscher) said that immediately after receiving disturbing news from the Bavarian Office significantly tightened its control over the manufacturers Dehner. "However, the absolute protection of the consumer, we still can not guarantee", - said the politician. Lompsher remarkable statement made to the fans Dehner. "I do not recommend buying a half Dehner euro as between low price and poor quality, there is a direct link," - concluded the senator profoundly.
Source
www.rg-rb.de