In fact, his entire life she was waiting for her man. Soul mate, she saw a Driste Burkhard, who served time for bank robbery, as it is written, and later his screen adaptation, the book "Franz Blum savagery." He looked like he was supposed to look like the hero-lover 70: in a leather jacket and jeans, from the deep open gate shirt has a thin chain around his neck. He also participated in the same TV program.
She considered it the look that so well known to viewers from the films with her participation. Like X-rays prosvechivaya possible lover, and that this guy is in your heart and in your pants? With admiration Romy looked into the eyes of Burkhard, enjoying his rude antics, then put her hand on his arm and said, "I like you." To have fallen away all doubts, Romy reiterated: "You really like me».
Between life Romy Schneider and her roles so much in common, such as, perhaps, no one has any other actress. Whenever she brings his personal experience on the screen perhaps trying, to find herself. "Now my age - 54 films," - said Romi in 1979, when she was 41 years old. Your real age actress measured not in years.
Already in his debut film "When the white lilacs bloom again," the 14-year-old Romy faced with great personal drama of his childhood - the departure of his father. She played the daughter of a carefree singer (Willy Fritsch), who throws the child and her mother (in her role of a mother Magda Schneider). Romy own father, actor Wolf Albach-Retty, was as windy, and for a long time did not care for her daughter.
She met with her father in 1963 during the filming of "The Cardinal". He never expressed his remorse. Until his death Romy unsuccessfully hoped that the relationship between them will improve further.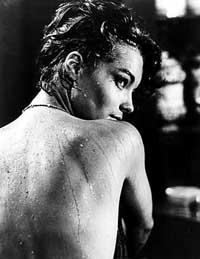 At the opening ceremony of the cultural center in Berlin, she met the famous German director Harry Meyen, who was much older than her. Nenazoylivo mild-mannered intellectual lean courtship was a real balm for the soul tormented Romy. Because of love for her Meighen divorced his wife, with whom he lived for many years. Deciding that he would help her to forget the suffering caused by Delon, Romy married him and moved with him to Berlin.
In 1966, was born her firstborn David. Becoming a happy mother, she felt saved. Recalling his youthful desire to become an artist, she drew a lot, took pictures, went cycling in the picturesque surroundings of Hamburg with a sketchbook behind.
After parting with another husband, the actress fell into the arms of a personal secretary and a driver 24-year-old brown-haired Daniel Byasini. After spending a month with him in Senegal, she started to work in the film "The main thing - to love," in which she played one of its main roles. Image Nadine actress with a failed career, extravagant woman recalled Romy own destiny.
In 1975, radiant and happy, with delicately woven into the hair a wreath of wildflowers, Romy was married to Daniel. When she finally broke up with Daniel. Romy adored son, who had become attached to her stepfather, stayed with him. The house was surrounded by two-meter Daniel wall topped with iron bars. One day, returning home with rollers under his arm, David discovered that the gates are locked, and climbed over the wall. He pulled himself up on his hands and has endured a leg over the fence, when he slipped and fell right on the sharp iron spikes that pierced him through and through. In the evening of the same day he died. Many thought that Romi not survive grief.