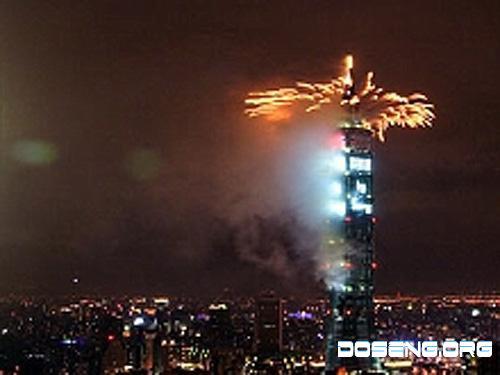 2008 Taiwan will meet the fireworks show, which will take place on the roof of the tallest building in the world - Taipei 101 in Taipei, according to DPA.
Sponsor colorful show will perform the Tourism Bureau of Taiwan, are willing to invest in this action is 21 million Taiwan dollars (640 thousand. Dollars).
In addition, since the evening on December 31 and ending January 1 morning hours, on all four sides of the building will be on display the word Taiwan.
Currently, Taipei 101 is the tallest building in the world, but in 2009 this title will be transferred to the skyscraper Burj Dubai in Dubai, the final height will be 818 meters. At the moment, it is called the highest unfinished building in the world.
Story skyscraper Taipei 101 is 101 floor, height - 508 m (with a spire). On the ground floor there are shopping centers, offices are located on the top. The second tallest building in the world.
Skyscraper construction began in 1999. The official opening took place on 17 November 2003, was put into operation December 31, 2003. The building is made of glass, steel and aluminum support 380 concrete pillars, each of which goes into the ground at 80 m. The danger of collapse during a hurricane or earthquake reduces a huge ball pendulum placed between 87 and 91 floors.
According to engineers, the tower can withstand strong vibrations during 2500 years.
This skyscraper are the world's fastest elevators - they rise at a speed of 63 km / h. On the ground floor to the observation deck on the 89th can be reached in just 39 seconds. The cost of building a skyscraper was 1, 7 billion. Dollars.