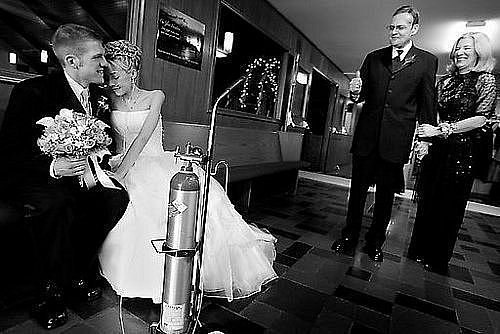 These photos were taken by John Hong (John Hong) - master of wedding photography. In 2008, he won the prestigious nomination "The Best of Photojournalism» (Best of Photojournalism) for a series of photos of Katie Kirkpatrick (Katie Kirkpatrick), which managed to keep the cancer to celebrate the happiest day of my life ...
Katie Kirkpatrick (Katie Kirkpatrick) is only 21 years old. She has cancer, the last stage. It was hard to breathe, so they had to use supplemental oxygen. The pain was so intense. But the disease did not prevent her to celebrate the happiest day of his life. She loved life and did not want to postpone it "for later". Her wedding to Nick Godwin took ...
Groom Katy Nick Godwin (Nick Godwin) was in love with her since high school ... And in the last months of her life, he got a job on the night shift for all the days to spend with Kathy ...
Nick is waiting until it will host one of the sessions of chemotherapy that took Kate ...
Despite the pain and the support of life, Kathy took care of every detail of the planned wedding.
Her dress had to take in several times due to permanent weight loss Cathy.
Last time it was incredibly difficult to breathe - a cancer of the lungs and eventually scored reached the heart ...
She wanted to be like myself as a photographer's camera captured her daily college graduation ...
As expected guest was an oxygen tank, which enjoyed Kathy during the ceremony and reception. The other couple in the picture - this is Nick's parents.
The celebration was held in the banquet center in Oxford. The husband and his friends sang serenades Katie ...
Katie died 5 days after their wedding. Her battle with the terrible disease ended January 21, 2005