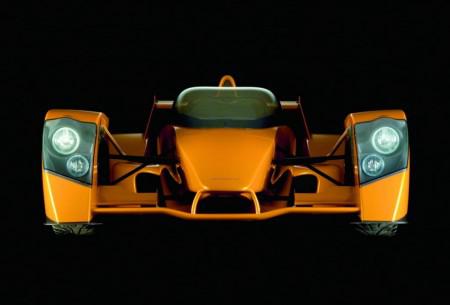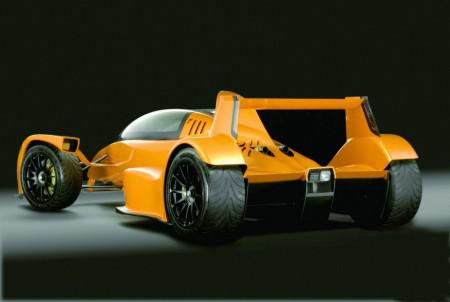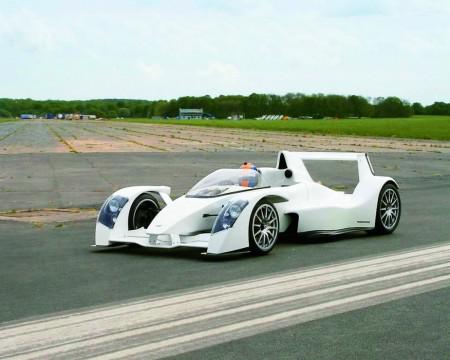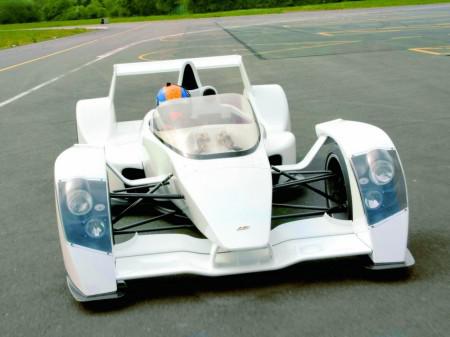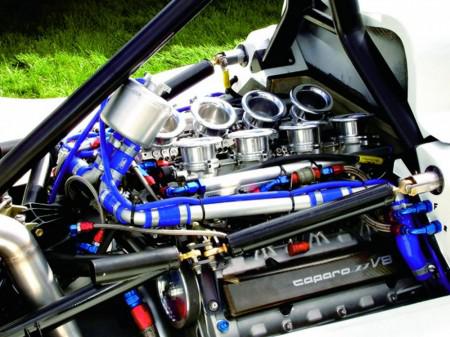 We have already written about the car, which is essentially a new milestone in the history of the building supercars. Recently, developers have announced the technical details. Caparo T1 is finally ready to produce!
Recall that the Caparo T1 is designed (in the "nee» Freestream) Ben Scott-Geddes and Graham Helsted, who once participated in the establishment of McLaren F1. Performed by racing technology handsome nose wipe away any of the currently existing cars! Length T1 - 4066 mm wheelbase - 2900 mm, the front track - 1990 mm, rear - 1924 mm. Externally, the car resembles the car F1: front nose cone, side pontoons, located on top of the cockpit air intake, huge splashes, paraded wheel ... Almost all the aerodynamic elements (made of carbon fiber and Nomex) adjustable.
At the core of the body - and incredibly easy sverhrprochny "cell" monocoque made of carbon fiber and aluminum. V8 engine of its own design Caparo located in the database and is part of the power structure of the body. Unit of 3, 5 liters with dry sump aluminum engine block and cylinder head produces 575 hp 10 500 rev / min when using a conventional 98-m gasoline. Until such revolutions are not "cool" any other car engine. Maximum torque of 420 Nm is also at a very high speed - 9000 rev / min. The electronic control unit is responsible for the work Pectel SQ6 vosmidrosselnogo intake with eight dual injectors. Caparo experts argue that methanol and with the "boy" to 12 000 rev / min rev limiter output rises to 700 forces. In this case, the power unit weighs only 116 kg (for example: 4-liter V8 from the BMW M3 - 202 kg) and meets current environmental requirements.
Reducing vehicle weight has been a major challenge for engineers. Through the use of advanced materials able to achieve amazing results. Dry weight is a paltry 550 kg. Specific power is amazing - from the Caparo T1 to the figure 0, 045 more than 1000 hp / t, ie 1 kg for more than 1 hp! This means that the specific power is superior supercar prototype, racing at Le Mans. Can compare with him except that superbikes and again, race cars F1. And the dynamics are similar - 2, 5 seconds to 96 km / h and less than 5 seconds to 160. unprecedented! Sequential gearbox with limited slip differential (of course, with shift paddles) is made of a durable light alloys. Set of gears - a removable, can be varied ratios. Lightweight steering rack - in the case of magnesium, a removable steering wheel. Suspension - a classic "dvuhrychazhka" front and rear adjustable shock absorbers and stabilizer bars. But they are not made of carbon and stainless steel, which is not inferior to him in
strength only slightly losing weight, but significantly cheaper. Brakes: 355 mm steel discs "circle", six-piston calipers front and four behind. With 160 km / h car stops 3 and 5 seconds. For the best settings you can play with balance and a variety of shoes. Electronic bells and whistles in the Caparo T1 sports also have a distinct flavor. May be mentioned system Traction & Launch Control, racing dashboard with the ability to record data (telemetry almost) fully programmable ECU. In the racing world borrowed "buckets" for riders with a six-point safety belts and protection system, head and neck HANS.
The decision to launch production in the Caparo T1 has already been taken. Naturally, we are talking about small batches. The machine, of course, there will be no demand - all over the world there is a fair amount of wanting to feel "almost Schumacher." In addition, the price is quite adequate:? 190,000 for extraordinary incredibly fast car, built on the latest technology, so even with flexible configuration options.