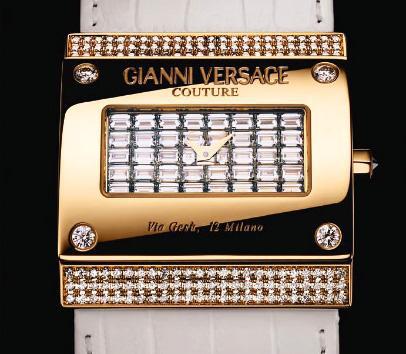 At the House of Versace extensive experience creating watches and jewelry. This time stamp pleased with the new work of art on display in Geneva. Probably, at the presentation all participants are blinded by the radiance emanating from the clock. Except, perhaps Donatella - she is a man a man accustomed to such things.
Model head of the House named in honor of his great brother - Gianni Versace Couture. And the novelty deserves to be so well-known name, because it totally does not shame.
The watch so many gems that really fascinate - yes, it is one solid diamond!
Let's start with the fact that the face is entirely encrusted with diamonds in the amount of 40 pieces. They are not hard to find: stones are enormous - 4 carats each. Also diamonds can be seen at the top and bottom of the hour and place screws. A total of 148 diamonds on the watch.
The unquestionable advantages of new items can also be considered a white alligator strap and the fact that all parts are polished by hand.
Those parts of the hours in which no diamonds, no crocodile, decorated with precious metal - gold.
Price: 180 000 Swiss francs.