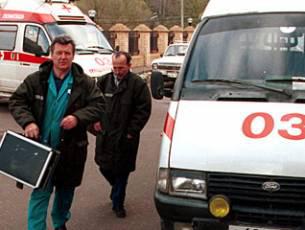 Rushing to rescue dangling at the gate of the incident classmate, 11-year-old Andrew Slastenov came under the girder and died from his injuries in a car, "first aid" on the way to hospital.
Students of the 4th grade of secondary school Motyginsky Krasnoyarsk Territory in gym class playing rugby in the central township stadium, where the tragedy occurred.
Andrew was the only child in the family is quite happy. According to the teachers, he was a straight A, and loved sports.
Tragedy
When one of the guys hanging on the crossbar rugby goal, Andrew Slastenov just ran with the ball wide. Suddenly the metal construction began nakrenyatsya. Seeing that the gate falling on the other, Andrew rushed to his aid.
A friend managed to jump off and run off to the side, and Andrew could not dodge. The heavy gate fell right on the boy, and the iron bar from around maha hit him on the head. From the bounce boy skull fracture.
 - Physical education teacher immediately called the "first aid", - said a senior assistant manager Investigative Directorate of the Krasnoyarsk Territory Olga Shaman. - When the medics arrived, the child was barely breathing. He was immediately taken to the district hospital, but on the way from his injuries Andrew died. Who Investigative Directorate of the beginning of the investigation into this terrible tragedy.
According to the students, this is the second tragic fall rugby gates Motygino a child. Two years ago, it struck a metal beam seriously injured 13-year-old.
 - Responsible for the death 11-year-old boy set a consequence. I myself do not know whom to blame and what is now ... - said the director of youth physical fitness club Alexey Ponomarev, on whose shoulders among others responsible for the location of the sports equipment.