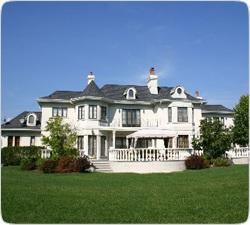 prices for Moscow real estate, and especially land, had already ceased to amaze. It is hoped that those who buy huge tracts in the Moscow region, know what they do. Medium is not given, either you can not afford to buy a metropolitan land or can. And then want to buy as much as possible.
In this situation, time is not far when all vacant lots, parks and other more or less free sites "golden" land hide behind high fences with security, which is quite kindly explain to guests of the capital, which is de private property. But while these times not arrived. And Moscow is still full of a variety of structures, does not claim to settlement billionaires.
For example, it is worth a little familiar with the geography of Rublevki, and immediately become apparent contrasts stronghold of Russian capitalism. Two hours to travel on the surrounding area Zhukovka - and the question arises of itself: how the most expensive place in the suburbs survived as "unformatted" possessions? But throughout his turn. That semi-abandoned military town on Rublevsky highway, 151 came to an end. Tidbit went to Mikhail Prokhorov.
A few days ago the Defense Ministry held an auction in which were exhibited two attractive asset. Military camps on the ruble and Left Bank district, although they represent a very serious investment value, but to sell them before that did not work. Auction postponed several times due to lack of applications. Whether anyone needs them were not, or no one wanted to mess with structures Prokhorov. And the outcome of the auction also say that Prokhorov has long been looked after these areas. Bids for each of the lots were short-lived, only one move. As a result, structures controlled by Prokhorov, a military town on the ruble went up to 2, 606 billion rubles, and the former estate of the Ministry of Defense in the Left Bank area - for 1, 145 billion. Prokhorov became a major metropolitan landowner, bought for $ 160 million of 15 hectares of land in prime locations in Moscow and the region.
I wonder, how does a billionaire dispose prestigious areas? After the demolition of spartan military buildings, possession on the left bank and on the ruble have all chances to become a fashionable cottage villages. According to preliminary estimates, Rublevskoe, 151 can build up to 200,000 square meters. m of residential buildings.