A famous married couple paid $ 60 million for a mansion with 35 bedrooms: their neighbors are Johnny Depp and frontman of U2's Bono.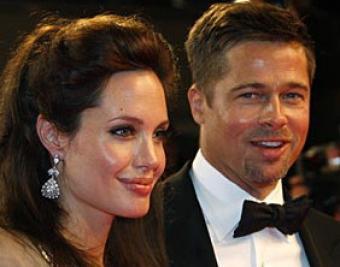 Brad Pitt and Angelina Jolie, or Bredzhelina as now they call the star couple journalists moved from the US to France. They signed a three-year contract for the rental of a huge estate in Provence.
Here in France, the home of his mother and grandmother, Jolie is going to give birth to twins. They say that before birth there quite a bit.
The estate "Chateau Miraval" is located in the forested mountainous terrain at an altitude of 300 meters above sea level and spread over 300 acres. One-tenth of the territory occupied by the elite vineyards. The estate has its own lake, 20 fountains, there are growing 13 varieties of olive trees.
House, where Jolie and Pitt are populated, built in the XVII century in a classic French style. Within 35 bedrooms, two swimming pools, two gyms, pool, sauna, Jacuzzi, and, of course, a banquet hall.
Compared to the dilapidated after a flood New Orleans, where, until recently, lived two stars, a new home will seem to them heavenly. The neighbors have to be the lead singer of U2's Bono, Johnny Depp and Vanessa Paradis. However, as they say, surrounded by Jolie - Pitt, for them the main thing - silence and solitude.
Yesterday, a number of Western tabloids, again citing friends of couples reported that Brad and Angelina decided to finally get married. The wedding will take place in France, too.