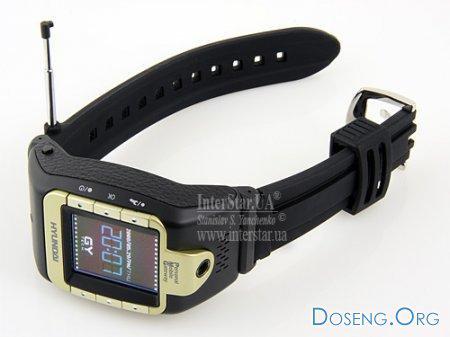 Mobile phone Hyundai W100 is made in an unusual form factor of watches, but despite the miniature size, is quite functional unit and has built-in Bluetooth with the profile A2DP, a slot for microSD memory cards and digital camera with a resolution of 1.3 megapixels, which can shoot video with a resolution of 176x144 pixels.
Display the phone Hyundai W100 touchscreen with a diagonal of 1, 3 inches. Miniature stylus hidden in the strap for fastening the phone on your wrist. Battery and SIM-card W100 is under the back cover, as which can act as the battery itself, and a carrying strap.
Phone Hyundai W100 is available in three colors black (Black), milky white (Milk White) and pink (Pink). Rubber Strap quite comfortable and securely holds your phone on your wrist so it is worth noting a very loud speaker, which is particularly good in terms of volume, play MIDI files. Complete with Hyundai
W100 comes everything you need, including a 2-battery wireless and wired stereo headset, and the usual desktop charger, a set of cables. All the accessories are made in the same colors as the main unit. Russian language in the menu, unfortunately not, but the fact that young people will appreciate the originality of fashionable phone Hyundai W100, no doubt.