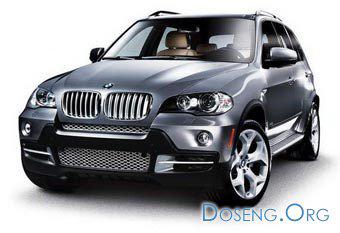 Restricted Party legendary BMW X5 on special conditions in the company's dealerships AVTODOM.
Excellent idea, perfect performance - a very accurate description of the second-generation BMW X5, a leader in the car segment for recreation. Its design has been recognized as the best in its category by readers of specialized authoritative German magazine «Auto, motor und sport». In the vote in the selection "Best Car of 2008" was attended by 243 000 readers from 17 countries, including nearly 100,000 from Germany. They chose the BMW X5, which was ahead of nearest rival by 5%, the clear favorite in the category "SUVs". This success confirms the attractiveness of the Sports Activity Vehicle, which is also reflected in the sales figures. In 2007, the world has sold more than 120,000 BMW. The figures speak for themselves.
As for the dynamic characteristics, you mention that the concept of BMW EfficientDynamics Paul Pietsch Prize awarded enough.
BMW X5 is not only a status and attractive car with a sporty character, but also practical in use. In confirmation of this is enough to indicate that as an option to the existing five places you can add two more.
It is important that the customer is offered the choice of the scope, the power output and type of fuel potreblinemogo: BMW X5 3 liter with petrol or diesel engine (272 hp and 231 hp respectively), as well as the powerful X5 of 4, 8 ps gasoline engine (355 hp).
Now is a good time to enter the circle of owners of the legendary BMW X5!