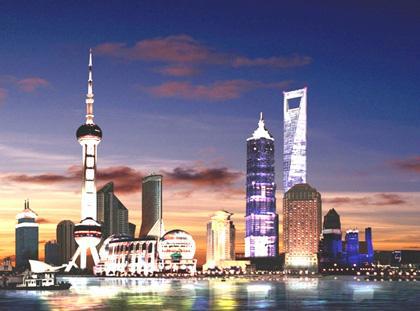 The opening of Park Hyatt Shanghai in China is scheduled for September 2008. However, to stay in a hotel can be today, without waiting for the official opening ceremony. The first guests to take 1 September.
The hotel is situated on the upper floors of the International Financial Center in Shanghai (The Vertical Complex City), will be at the opening of the most "high" hotel in the world.
Park Hyatt Shanghai, which occupies 79 to 93 floors of the 101-storey skyscraper, contains 174 rooms - the greatest (55-60 sqm) in the city. Each room is equipped with the latest technology, including those provided by wireless Internet access. Bathrooms are equipped with mirrors with built-in LCD TV, double sinks, a deep soaking tub and a large shower. Each suite is equipped with a small seating area, to enable a spa in the room.
The interiors of the hotel are made by New York designer Tony Chi (Tony Chi) in the spirit of modern Chinese residence.
On the 87 floor of the Shanghai international financial center is a spacious dining room Dining Room with European cuisine, where guests are served breakfast, lunch and dinner. On the same level is a "living» Living Room, where all-day snacks are served European and Chinese cuisines, as well as a tea room and a bar with a wide range of classic cocktails.
In the 91-93 floors of the building located 100 Century Avenue - a spacious three-story restaurant with wide windows offering a breathtaking view of the city. The vast space of the first level comprises three open kitchens, where skilled chefs prepare dishes in front of the visitors, transforming the process of cooking into a real show. Guests can use a combination of all three menus presented here cuisine - European, Chinese and Japanese, or to give preference to one of them. At the second level will house bars, and the third - the banquet area Sky Residences, which is the highest situated in the world.
Meeting rooms will be opened in the 86-floor building. There also will accommodate 8 banquet halls and meeting rooms for the organization of meetings at the highest level that can accommodate up to 100 people.
The hotel has a modern recreation area with spa complex Water's Edge on the 85 floor. The complex includes two spa rooms, a spacious swimming pool, a courtyard to practice Tai Chi, as well as a wellness center.
Park Hyatt Shanghai is located in the heart of the business district - Lujiazui, it is surrounded by shopping centers and major attractions. Close to Shanghai Art Museum (Shanghai Art Museum), the Shanghai Museum of Contemporary Art (MOCA Shanghai), exhibition center on Renmin Square, Gallery on the waterfront of the river Suzhou (Suzhou Creek), and more.
The hotel is located 25 km from the international airport Hongqiao, 40 km from the international airport of Pudong, as well as 12 km from the main railway station in Shanghai.