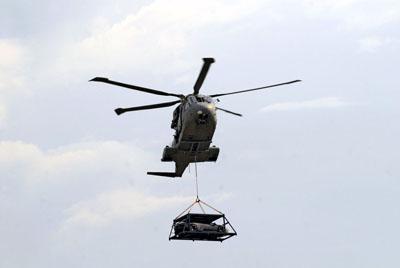 What do you think, what is the fastest way to deliver the car to the planned event as soon as possible? Perhaps you and offered to go a couple of excellent ways, however, how many of you have thought about how to use the services of the Air Force? It thus entered the car manufacturer Lamborghini to the most rare and ultra expensive representative of the brand Reventon time arrived at the specialized exhibition «Lamborghini and speed."
Photos provided by the company to illustrate how the Reventon was transported to Turin on a platform attached by cables to the military helicopter.
This action is a bit like the story of the notorious film by Federico Fellini, "La Dolce Vita» («La Dolce Vita»), filmed in 1960, at the beginning of which plaster sculpture of Christ in a similar manner is transported over the ruins of the old town to the Vatican. This scene was intended to reflect all the dichotomy that exists between the past and the present. What was the idea of ​​representatives Lamborghini remains a mystery.
Total was produced 20 cars worth $ 1.55 million. Each, and none of the representatives of model Reventon was left without holder. Perhaps this deal will bring the Italian Air Force, where large cash rewards rather than the unfolding of military operations in Iraq a few months ago of which were completely withdrawn Italian troops.