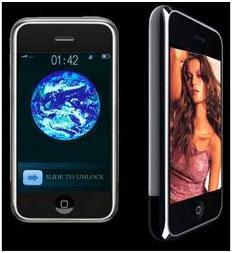 The most popular clone of Apple's hit to date is Cect HiPhone, but now there is another clone with a fairly powerful features.
As befits a fake, Sciphone i68 looks almost identical to the original, so that at a first glance the device can not be distinguished from the iPhone.
But this razkitayskie manufacturers have tried to do at a decent level, not only the hardware but also the software of the device. Interface Sciphone i68 enables the user to work as a stylus and using mnogopaltsevogo method, as on the iPhone. The phone supports four GSM and is equipped with 3, 2-inch touch screen, 1, 3-megapixel camera, Bluetooth with stereo and FM-tuner, and G-sensor. In short, if the Chinese manufacturers will continue to try so hard, the clones will be more powerful than the original device.