Have you ever thought about how Tatra will look like in the future? For those who are unfamiliar with Tatra, explain - a Czech car brand, has long been famous for its unforgettable aerodynamic and revolutionary technological solutions.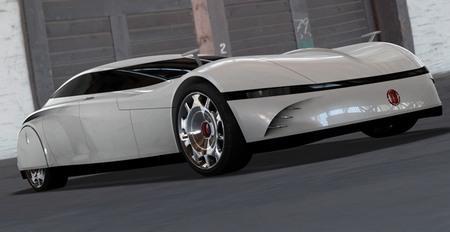 Tatra 903 Concept was designed by Mike Jelinek (Mike Jelinek), and is a first-class car, the ability to move on fuel and electricity, and the "unique combination of emotional design and efficient aerodynamics».
"Teardrop profile of the trunk is one of the most valuable features of the aerodynamic cars Tatra, the aerodynamics is also improved by the covert of the rear wheels of the concept».
"Probably, the car looks a bit old-fashioned, but in terms of improved aerodynamics model 903 pursues its own purpose».
"A-pillar moved to the center of the car - it does not just copy the design of previous models with a split windshield, and improves safety by providing a better view of the driver," said Mike Jelinek.