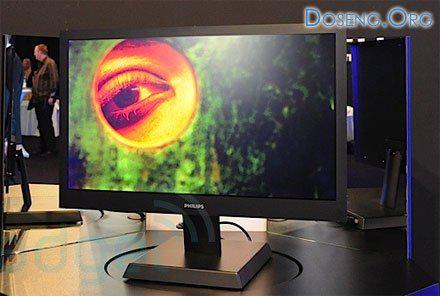 Philips has developed a prototype LCD TV with a thickness of 8 mm body. Managed to achieve this through the use of innovative lighting systems based on light-emitting diodes. On the commercial realization of the prototype has not been reported.
Dutch company Philips has developed a prototype LCD TV with a thickness of 8 mm body. The length of the diagonal of its screen is 32 inches, according to physorg.com. The novelty was demonstrated at the Consumer Electronics Show IFA in Berlin.
According to company officials, the TV is three times lighter commercial samples with the same diagonal length - it weighs only 5 kg. This allows, for example, simply pick it up and hang on the wall as if it were a common sight, noted in Philips.
Create such a slim TV managed by reducing the thickness of the backlight module. If modern display devices has a thickness of 25 mm, the concept - only 1 mm. "Illumination is the thickest part of the LCD panel, - says Vice President Philips Research Laboratory Bokorst Fred (Fred Boekhorst). - Now, this piece became the contrary, the thinnest design ».
The TV used the latest development of Philips - thin light guide material, the light which comes from the high-power LEDs, located at the top and bottom of the panel. This material and lights up the display. According to engineers, lights 1 mm thick can be used as a TV with a screen diagonal length up to 42 inches.
For information on when these TVs will go into production and how much it cost, have not been reported.
Recall that at the same show, Sony unveiled an LCD TV thickness of 9, 9 mm, equipped with a panel with a diagonal of 40 inches. It goes on sale in November this year.
The thinnest TV is Sony XEL-1 based on light-emitting diodes, which is sold in Japan and the United States. It does not use lights and the thickness of the screen excluding the cradle is only 3 mm.