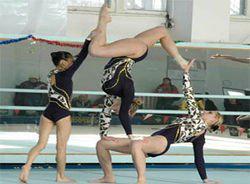 Three Russian gymnasts and their coach were killed in a fire that engulfed a hotel, where they lived. The cause of fire was the thunderbolt.
All four were in training camp in Gelendzhik, a resort town on the Black Sea. The incident occurred last weekend, according to the International Gymnastics Federation (FIG).
The victims had no chance to escape, as they are burning roof collapsed.
Gymnasts Anastasia Goloviznin (14 years old), Anna Marina (18), Olga Hoffmann (16) and their coach Svetlana Kushu preparing for the World Cup in acrobatic gymnastics, which will be held in Glasgow in October.
FIG President, Prof. Bruno Grandi expressed his condolences to the relatives and friends of the victims, as well as the gymnasts of the Russian Federation.
Today is the farewell to the athletes.