When I corresponded with a colleague from Thermal, Denis said that we have a chance to see a volcanic eruption. Honestly, I did not attach much importance. And even when we were shaking all day in a jeep, making his way to Kluchevskoy, I was thinking about something else. But come the moment when it was already night, we climbed the steep road to the next hill and saw the eruption ...
Until Kluchevskoy hill was far, even in telephoto, she was little, and even a few minutes later, the clouds completely obscured the sight of us. But then it became clear that all plans are changed, we will watch the light to the last, and wait for the moment when the volcano we will ...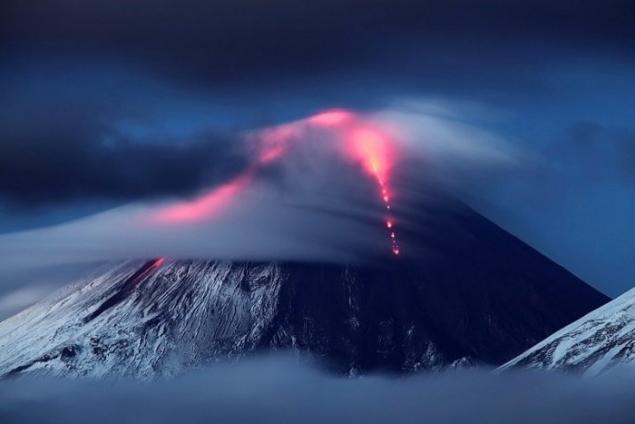 Already in the dark we got to the house, which at that time was part of a group of volcanologists (they themselves were encamped somewhere close to volcanoes, and assistant and mountaineer, were in the base camp).
Put up a tent, I lay down to sleep, I had a fever, snot, and on top of all this, acclimatization. The guys up to three nights running around the tent, taking volcano, and when got into the sleeping bags, I got already, now I could not sleep.
Morning dropped heavy fog, we collected mushrooms cooked julienne and finished off supplies of beer - nothing was to hinder us on the set! By evening, the weather began to build, and in the night we went out to the open air. Climbing higher, found quite a convenient point for shooting. But a strong and cold wind forced us to separate. Denis went outside the tent, and the rest were trying to shoot. It was very difficult to achieve sharpness in photos, wind constantly rocked photo equipment, a tripod is not much help.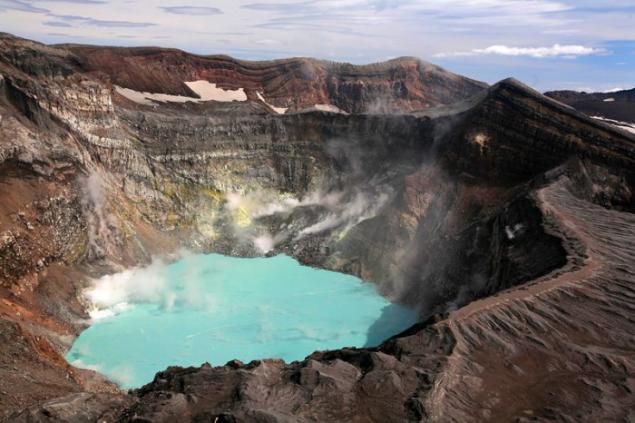 In the morning we went towards Tolbachik, near the lake and met two groups of tourists descend. The weather was perfect, and Kluchevskaya was open. During the day, we can only observe the emission of ash, lava flows are not visible, but on this day they were apparently very strong. When one of them reached the glacier, hit up a huge column of ash and steam, we even thought at first that this is yet another eruption ...
The place was so successful for the shooting and the camp that we moved here and the remaining two days and three nights guarded light on this point.
Our camp on the background Tolbachik.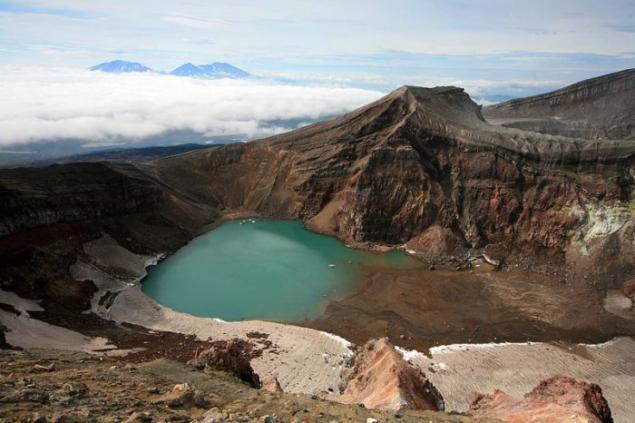 Column of ash, that the gray, and the left column of steam arising from the collision of lava and ice.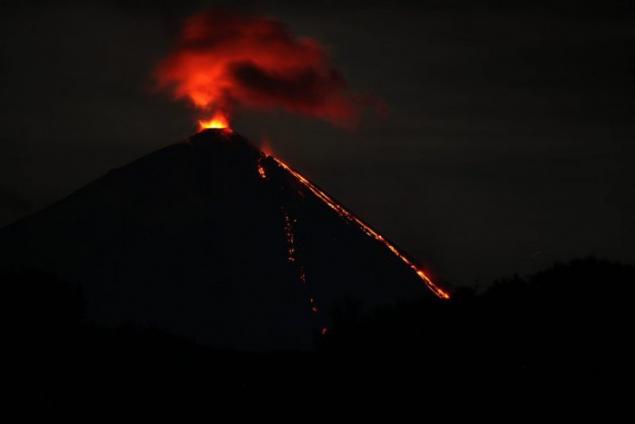 While the guys were not, I shot one, and I literally skipped around a herd of hungry and arrogant evrazhek, one of which even tried on the tooth is one of the tripods.