One of the largest alligators in the world was caught in Florida, USA. Alligator caught fisherman Tracy Ammermanom on Halloween night, holds the record of Florida - the length of it, was 14 feet 3, 5 inches (4, 35 meters). It is believed that the age of the animal, weighing 654 pounds (296 kg 7) ranges from 50 to 60 years.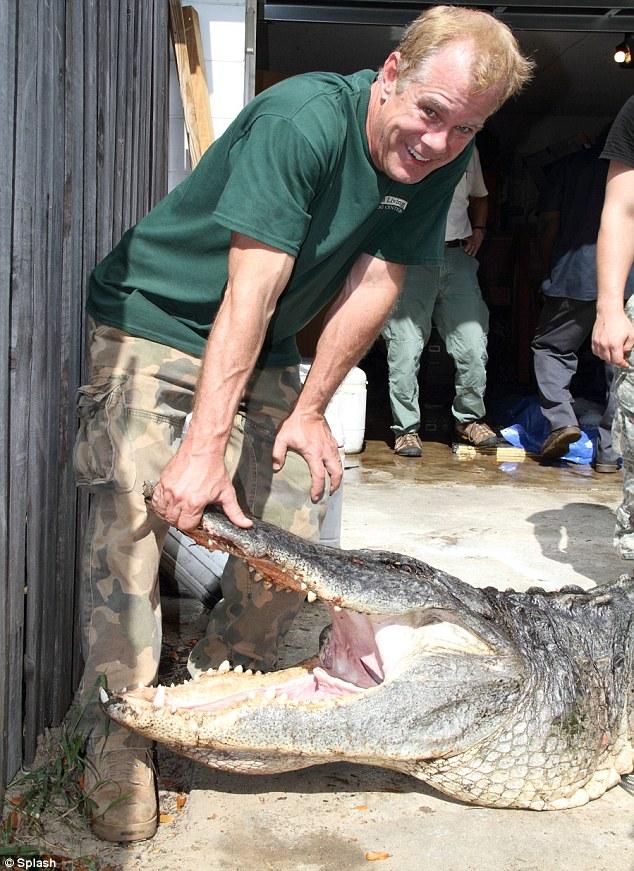 "I thought I caught Godzilla": shares his impressions of the fisherman who caught a record 4-foot alligator on Halloween.
Last state record was set in 1997, then the length of an alligator was about 14 feet (4, 25 meters). Catch Mr. Ammerman 10 centimeters longer. Fisherman plans to offer an animal taxidermist (people making stuffed animals) at a price of $ 1,000 per foot that will bring him more than 14 000 dollars.
"I feel like he just won the lottery. I think it's just awesome, "- says he.
Tracy Ammerman, who hails from Yorkshire (England), was fishing with two friends on a Sunday night on Lake Washington. Caught in the harpoon alligator was so great that fought for another 30 minutes before Mr. Ammermanu still managed to wear down his.
"He ran, jumped, turned, and struggled and tried to bite my boat ... I thought I caught Godzilla"
Before we dive into the truck alligator, two o'clock they were pulling him along, as it was too big and does not fit in to their boat. Florida Commission Protection of Fish and Wildlife has confirmed that this is a new record catch of the state.
Before this incident, the largest in the history of the alligator was caught in Louisiana. Its length was 19 feet 2 inches (5, 84 meters).