A resident of the commune Oberhallau in the Swiss canton of Schaffhausen plane rammed his mother's house. During the day on Saturday, July 16, Konrad Schmidt, an unemployed electrical engineer and amateur pilot, rented a lightweight four-seater Diamond DA42. He went to him to the house mother, 68-year-old Rosemarie Schmidt, who for many years lived alone after her divorce from his father Schmidt, a retired airline pilot of Swissair. Konrad Schmidt made three test approach "objective", and then rammed the plane home.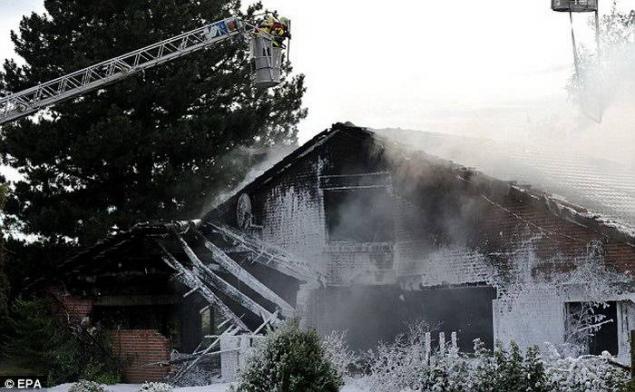 Despite the fact that the car exploded and the house caught fire immediately, Rosemary Schmidt survived and escaped with just a shock - during the incident, she was in the basement. Getting out from under the ruins of her neighbors helped. Police arrived she told me that before you send your airplane to the ground, the son called her from the cab and asked, "Are you home? I'll come around for long! ".
Witnesses of the incident said that Konrad Schmidt could not crash into the house by accident. "He made three attempts, he was trying on, and finally rammed home. It was like September 11 in miniature "- quoted by The Daily Mail neighbors Rosemarie Schmidt.
47-year-old Konrad Schmidt two years suffered from depression. Neighbours his mother suggest that such an act could push Schmidt longstanding feud with her. He accused her of what she has provoked a break with his father, who died shortly after her divorce from cancer.