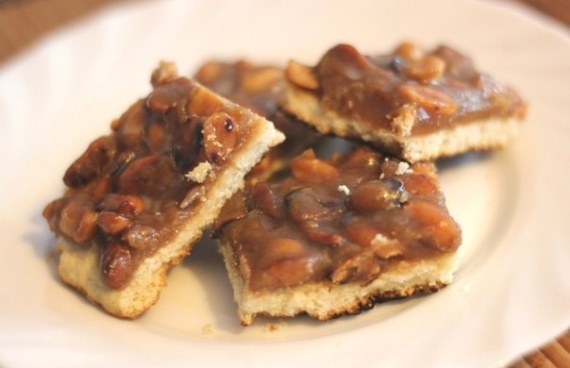 Ingredients:
For the test.
400g flour
150g water
1/2 tsp salt
300g butter slab  
1 packet of baking powder.
for the filling.
200g peanut
2st.l starch
100g sugar
100g butter slab
100g cream
Preparation:
1. Pour the flour and salt in a bowl. Rub the butter into the flour with your fingers until the mixture will resemble breadcrumbs.
2. Pour in the water and make a dough.
3. Roll the seam and place in oven for 15-20 minutes (at 180 degrees)
4. Fry the peanuts in a frying pan.
5. Add the butter, melt stirring.
6. Add the sugar.
7. When the sugar darkens, add sour cream and starch.
8. When the cream dissolve, set aside a lot of the side.
9. Remove the cake of the oven.
10. Put the stuffing. And in the fridge. 30 min.
11. When filling hardens, remove from the refrigerator and cut into pieces