For a country house to buy voltage stabilizer of 10 kW or 10,000 watts.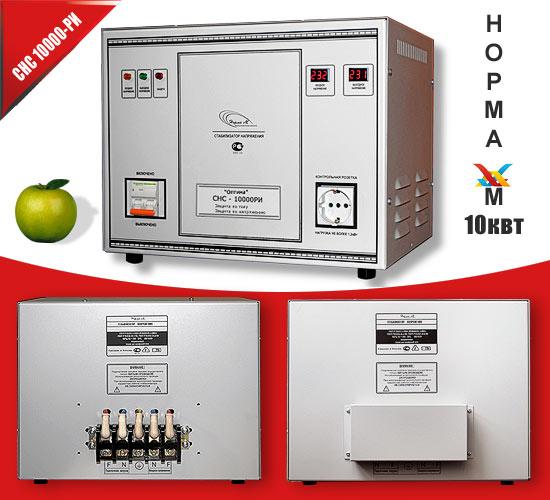 For a country house, where the mains voltage may be unstable, great automatic AC single phase voltage "Norma M" Optima SNS-РИ12000 with AVR system. His active power is 12kW, full capacity can reach 17кВА. Such power is enough to connect all home appliances and electronic equipment powered by 220 Volts. For a cottage or Villa, it is better to buy a voltage stabilizer relay type, because this type of regulators is characterized by the highest reliability, durability and affordable price.
This Assembly is completed for the relay scheme, using high-speed electronic relays that control the voltage without interruption of supply. The speed regulation is rather high and lies in the range of 10-20 MS, and the control accuracy is in the range of 2.5-10%, which easily meets the requirements of GOST. The output voltage has a perfect sinusoidal shape, which is very important for electronic devices.
Stabilizer works reliably with the range of input voltage from 165 Volts to 244 Volts. If the voltage drops below the specified limits, the device is not disconnected, and continues to raise the voltage as close to its specified parameters. When reducing the input voltage below the critical, is equal to 130 volts, the system automatically turns off the protection of the minimum voltage. When recovering the voltage the automatic return to the working state.
To protect against power overloads and currents of short circuit has fast-acting electronic protection. For emergency cases there is a system manual bypass that lets you connect the load directly, bypassing the regulator. This gives you the opportunity to power consumers when the stabilizer down. Home often buy a voltage regulator 10 kW because this power is enough for most devices.
The stabilizer does not interfere with itself and equipped with a filter that protects the load from mains interference. Not prone to overheating and is completely silent. The efficiency of the device is close to 100%. Remains operational at temperatures from -30 to +35 degrees Celsius. Does not require additional cooling. On the body of the stabilizer there is a service outlet for connecting the load 1200 Watts.
The device is easy to operate and with a weight of 17kg and sizes 350х275х280 has two forms of installation of floor and wall that creates additional benefits.
The manufacturer provides a long warranty on the device, equal to 3 years. The countdown of the period of warranty is from the date of sale.
Buying stabilizer "Norma M" Optima SNS-РИ12000 you provide stable power to your electrical devices and protect them from power surges.