Scientists from the University of Malaya (University of Malaya), Malaysia, have developed a roof, which can help solve the environmental question: between the increase in electricity demand, to increase comfort, and the need to reduce the use of fossil fuels to solve climate change. This conflict was reflected in the increased interest in more efficient technologies of renewable energy, especially in developing countries.
The main feature of the eco-roof is a front-V-shaped, located on top of a pitched roof that directs the air flow into the turbine underneath it, and the motion of which energy is generated.
Add-in also increases the flow of air within the building through holes formed in a pitched roof to improve natural ventilation. In addition, the system of collecting rainwater is connected to an automated system for cooling and cleaning solar cells built into a pitched roof to maintain maximum effectiveness.
Skylights increase the illumination of the main rooms inside the building during daytime, while reducing the need for artificial lighting.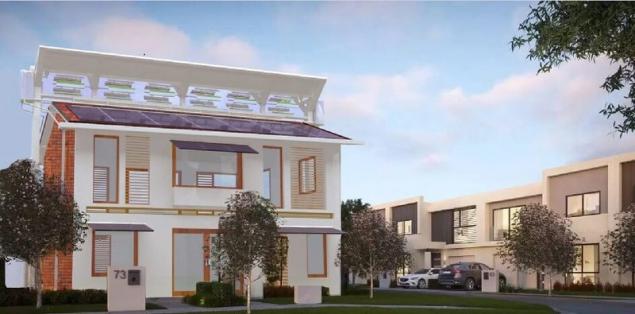 The team says that the installation of the roof on the existing building creates minimal visual discomfort and can be used in urban and rural areas.
In Malaysia, the average person uses about 4200 kWh of electricity per year. The researchers say that their roof can provide energy for about six people, producing more than 21200 kWh of energy per year, while that still 1840 kWh saved by using skylights. In addition, the ventilation system can lose approximately 217 million cubic metres of air and reduce carbon dioxide emissions by 17,768 kg, and the system of collecting rain water can collect around 525 cubic metres of water.
The team says that the amount of energy generated from the roof depends on where she will be.
The researchers note that at the test site were low speed wind, so the payback period may be better with the installation of eco-roofs in the more windy areas. They say that the eco-roof can be positioned and adjusted to the requirements of the surroundings: sunlight, size of precipitation and wind direction, use of regional weather data. published  
P. S. And remember, only by changing their consumption — together we change the world! ©
Source: //phys.org/news/2017-04-hybrid-eco-roof-combines-energy-saving-technologies.html