Warm salad of spelt: pescetarians recipe
All you need for a full meal is in one dish! Green salad salmon fillet with a crispy crust. What could be better? In addition to its taste, this dish is also very useful. Salmon contains omega-3 fatty acids, vitamins B5, B1, B6, B2, minerals such as phosphorus and potassium. Salad mix will complement the beneficial properties of fish.
Greens contain folic acid, carotenoids that improve vision and skin, vitamin C, sodium, phosphorus, copper, iron and many other elements. Pomegranate adds acidity and accentuate the delicate taste of the fish and freshness of the salad. Do not forget that this fruit is rich in fiber, plenty of acids, strengthens blood vessels and prevents colds. About the benefits of each ingredient we can talk forever, but let's move quickly to prepare a warm salad!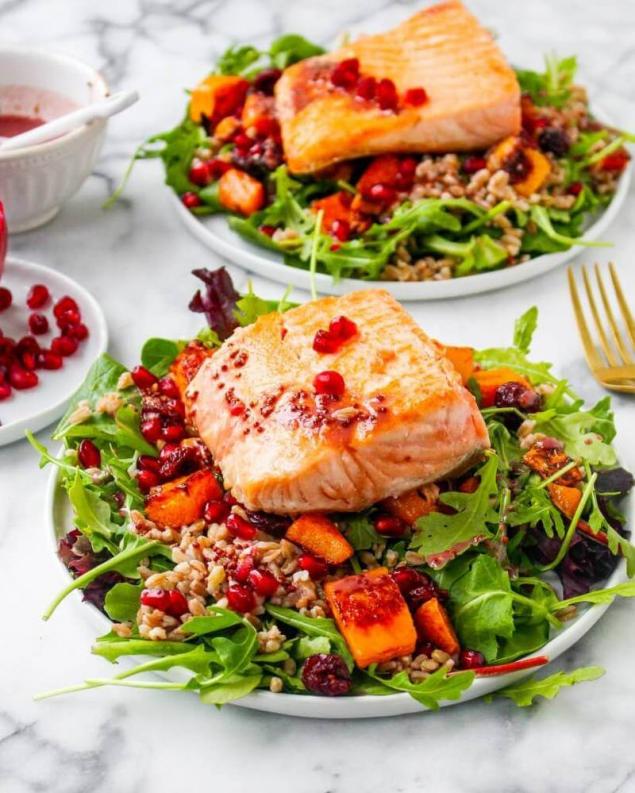 Ingredients (for 2 servings):Salad
2 cups cleaned and cubed Butternut squash
1 Cup spelt, rinsed well
½ Cup dried cranberries
¼ Cup toasted nuts or seeds of choice
½ Cup of pomegranate seeds
6 cups mix of greens
Refills
1 clove garlic, chopped
2 teaspoons Dijon mustard
2 teaspoons wholegrain mustard
¼ Cup pomegranate juice
1 tablespoon brown sugar
2 tablespoons red wine vinegar
⅓ Cup olive oil
Salt and pepper to taste
For salmon
1 tablespoon olive oil
2 salmon fillets (with skin)
Salt and pepper
Preparation:
Salad
Preheat the oven to 200 ° C. Place the chopped pumpkin on the parchment paper. Well drizzle with olive oil and season with salt and pepper. Cook for 15-20 minutes (until soft and caramelicious), from time to time turning. Remove from oven and let cool.
At the same time, pour the spelt 2 cups water in a small saucepan with 1 teaspoon salt. Bring to a boil, reduce heat, cover and cook until tender (about 20 minutes). Drain the water and allow the spelt to cool.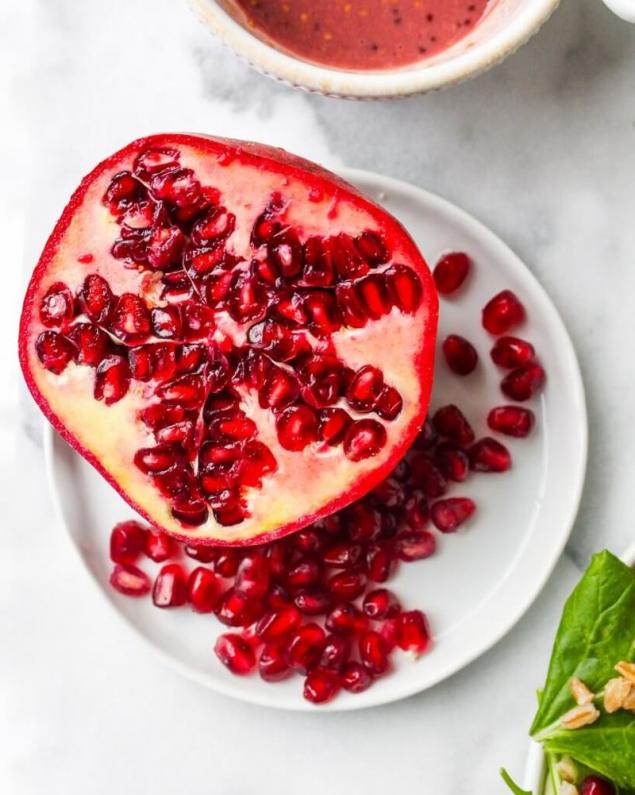 ​​​​​​​
Refills
Combine all ingredients, except olive oil, in a bowl and mix well. Then add the olive oil, mix again. Season with salt and pepper to taste.
For salmon
Preheat a large skillet oil over medium heat. Season salmon with salt and pepper on both sides. Place the fillet skin down on the hot pan and cook for 4 minutes or until the skin gets crispy. Flip salmon to other side and fry for another 2 minutes. Lay out the salmon from the pan and allow to cool slightly.
Serve a dish:
In a bowl or plate, place mixed greens, pumpkin, spelt, dried cranberries, nuts or seeds, pomegranate seeds, and on top put salmon. Pour over the dressing and serve the salad warm. Enjoy!
Cook with love!  
P. S. And remember, just changing your mind — together we change the world! ©
Source: online-detox.com/articles/112177-teplyy-salat-iz-polby-s-semgoy-i-granatom