Wherethere is
mother
and
her
pansto survivein
the long term
,
extends thelife
of the son
!
Joseph Brodsky  
"Scary is not what we are adults, and adults – we"
Internet  
Our only wedding picture of his dad standing in the registry office near a leafless ficus, lies at Gus in a purse in the same compartment with a spare condom. "Look, — says – mom as you from me with a funny look, and as a hint: be safe, son!"
Buttons his jacket and leaves. And I stand before the door and think: what was it? Already unacceptable familiarity or trust? I often just stand and think, and tooolko want to give the offspring of the brain, was reminded of the advice of experts. And everything is so scary.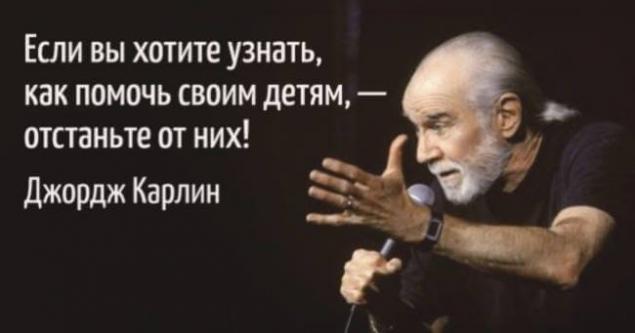 Now everywhere I went the subject of, say, relationships with your children most importantly – unconditional love. "No need to do anything special – they JUST LOVE it." And of course "be Taken for what they are." And their growing up and their early departure from the nest once to keep in mind — directly from diapers. More to follow in order not to impose its will, to broadcast their expectations, not to teach and not to push — because "they are so hard".
And we?
Or here's another: "If you want to learn how to help their children to get away from them!" (George Carlin) uh, yeah?
I read books and articles about child psychology, childhood, relationships, I even write them. Parents in all these articles – these are sores on the body free of the child's personality. And interference with its development — get in the way, making inappropriate comments and reward systems.
Discover tips on communication, and there is very often "do not climb to him talk, yet he will not ask you", "don't do comments", "no control! Trust is the key to your future happiness." And described the dreadful consequences of parental error. Plus memories of the stars, excerpts from biographies and life stories where parents shamelessly maimed, mutilated, ruined childhood and continue to spoil adulthood... Full of trash.
This killed my confidence, my belief in intuition, baffled...
Read, read and begin to think that the best option is not to catch kids eyes. To hide, to do no harm. Not to break, not to project your fears, not to blurt out a tactless, not to cause psychological trauma. It is after all so all the comments, so impact on his future...
On the other hand, psychologists say, if a parent only feeds, clothes-shoes and wipe up snot is not education and certainly not the communication, stupid "only care". I understand — just leave doing the most retarded – emotionally, and possibly mentally parents.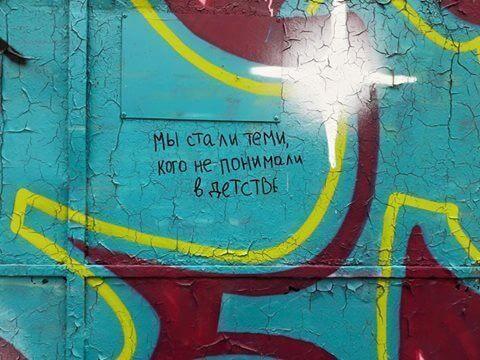 And I can not figure out how to leave kids alone to certainly not injure. And how to talk about abstract topics, so from my side it was not "just Babysitting". How to Express your emotions, so that children know that they have me in principle, but at the same time, so you do not want to take all of his words (and screams) back. How not to broadcast, not to impose, not control, not fear. That's because I love them – I don't know. Love SIMPLY and UNCONDITIONALLY.
And so worried, shaking, speak not those words, but 15-year-old child in response Vesco says: "You're not acting like an adult!" And I don't know what the right thing is, grown-up, without causing damage. And next there is no one who knows and is sure and there is only these stupid books, articles and recent studies of British scientists. And they show all the time different!
And it's so many. Fathers merged, and if in place, then you don't know how not to harm (or self-harm, not at all afraid to hurt). Confusion reigns in the ranks of the parents, they have a lot of questions to which all respond differently. New way, old way, traditionally, unexpectedly.
And how to know what to rely on, if there are no branched family traditions, pattern of behavior, no older men, grandparents, big family, big house...
And there is only you and your boy. And vulnerability – yours and his. And I must remind myself that you're an adult, you're his Made. And it is your ideas about good and evil, he will absorb, and your words will ever be his "inner voice".
I thought it's naturally occurring — education. That child is as a presentation of his life to the clean copy. What can we read them good books, kiss on the head and butt, and inspire actions by example and contagious laugh. To be silent is not good, hide the ugly, do not make the house unprofitable, and difficult to explain – wise and in your own words.
That is, on the one hand to invest, on the other – to protect. And get people, new, clean, silky, your own.
But it turned out that he did not hear of this – read, brush your teeth, put on sneakers. But born with a whole set of ready-made tendencies, preferences, dislikes, talents, antics, has a fear of water or height, ability to languages and the attraction to the female sex. And somewhere deep inside he already recorded and your divorce, and divorce grandparents, and maybe even the death of the grandparents in the dungeons of the Cheka.
And he does not want the book and whatever you think is good, does not want to. And there's nothing you can do about it. He wants to watch game reviews on YouTube, follow videobloom, who are 18-year-old millionaires.
A shirt that you like, not wear for any price. But all the time there will be chips, rubber jelly, chewing gum, drinking a coke – in short, all with additives, almost poisonous. Silent? RUB about a healthy diet? Show by example? Show. My healthy eats, goes out and buys everything else.
How to protect, if the external world is stuffed with food additives – bright, beautiful, with the stars of football. And still is, my favorite — "Limit his stay in network." Yes, they have the school Wi-Fi!
Col — "Fathers and children" rest. "You just have to love." Well.
I think, okay, let go of the situation, and will not trust one of those moms who have sons. "My little baby! You ate the sandwich? And the socks in the shoes podmodel?" Decided not to put herself on the altar of Ministry to children, so that they do not say that the mother "raised us struggling, as her personal life has not developed". Okay. I have a lot of things, the relations, INTERESTS and tasks in addition to caring for the children. And the growing up of the son I try to make.
I'm working on it and understand what make it impossible. But you can pretend that you are taking. Apparently good moms make the kind of talented, bad say, "why should I?" and give a slap. I'm still in the middle.
Well, I can ably respond to his approving: "Masha ass like a nut. Yes?". (Response options of: 1."And it's true"; 2."The female body is a temple, and compared to the walnut I do not like"; 3. Just love)
And can not be ably to keep silent when you find a cigarette (no, not especially rummage through his pockets, just come across). At first I yell: what? Do you smoke? How can you? Then I remember that I need to talk about their feelings and not about his moral character, confused, unable to articulate the "I-statement" (simultaneously) and as a result end up somewhere in the middle: "do You know how stupid I feel?"
And this is a rhetorical question, because clearly he did not understand.
Or that he took it and was suddenly drunk. Maybe only a surprise to me. And on the birthday of my friend and his older friend. Men in the company laughed at my confusion, asked not even dare to swear and nervous, very funny, remembering how first-time drinking, got drunk, and was caught parents.
Everyone had a lot of fun. The next day called after him and asked: "You didn't bring him up when he woke up?" "Let him grow up!", "He needs a normal male shake!" They were on his side. And suggested that I represent the enemy of the women's camp.
Well, I said nothing.
And that one wrong word, and now you're a mother pogorechilsya.
And then he came back with a Christmas tour and from the doorway ran to see what gifts Santa Claus or anyone put him under the Christmas tree. Well naturally! Straight from the station, right in the shoes. And Santa Claus did not put because he thought the boy grew up and more interested in cash than tied up in a ribbon box under the tree. I overestimated his maturity.
And yet it was so. Got out of the shower that night, everyone is asleep, the silence got to bed, and cooooll was going to fall, once again the bottom and someone grabs my leg. Heart in the heel, and it's not someone, and adult son, who is in General satisfied with the operation, but getting out from under the bed, and expresses criticism: "What took you so long out of the bath did not go? I've been acting, I almost fell asleep". To grab my leg.
And I do think, we currently don't talk — don't remember what, it looks like the seats in my phone at the dinner table.
Of course, then up half the night scared and any thoughts. How to thread the needle and let go, to acknowledge his adulthood, to maintain aicinati, allow to make mistakes, to fill their cones and then put the presents under the tree, remembering that he is a child?
How to talk – not to read morals and not fall into the familiarity, not to smoke with him on the stairs... And how not to make comments in a rude sarcastic form, and talk confident, calm, authoritative and "repeat once" (Labkovsky).
Or even better "be able to put yourself" to "I'll look at it" — and everyone knows that somewhere screwed up, and run fix. And how to never ask about lessons, assessments, "what are you thinking", "your future depends on it, and you..." And in particularly the turning points to be able to articulate that it is then their grandchildren said: "for life I remember how my mother told me"...
And while how to stop feeling like the exam itself more than anything not to be afraid to fuck it up?
16 main emotion – anticipation, high expectations, the anticipation of gifts.
As if life is a Grand birthday that someone prepares for him secretly, comes up with surprises. Mom, what will you do with cake? And the candles? And the fireworks will be? And most importantly – who will come to visit? To speak what I want?
Well, on the Day of Birth you'll be able to offer something... And then what?
Further life.
Salinger came up with this image "to guard the children the catcher in the rye".
"Little kids are playing in the evening in a huge field in the rye. Thousands of kids, and nobody around anywhere, no adult except me. And I'm standing on the edge of the cliff over the abyss, you know? And my job is to catch kids so they don't fall off the cliff..." He wanted to catch them.
I think
motherhood is it is. To sit over the abyss, trying not to fall down the most, and if he runs into the abyss, know that it is the only catcher the catcher is the person you
. And you're no catchers, there are only advisers.  
 10 things about my mom, who still need to tell the childCOMFORTABLE the child is NOT very easy to live
And how many do not read clever books with the rules, how many did not promise myself not to swear – with the closest people in the most important moments — the emotions are hitting the balls, and all is lost. Especially with the kids. Most often. Almost always. Because these people are the closest, you love them, and love is hell feeling! But I'm only human. published  
Author: Polina Sanayeva  
Source: gorabbit.ru/article/materinskiy-kapital