The holidays are around the corner and it's time to think about creating
a fabulous atmosphere in the house
. The focus will be a tree, so you need to put a lot of effort and be creative to decorate it nicely.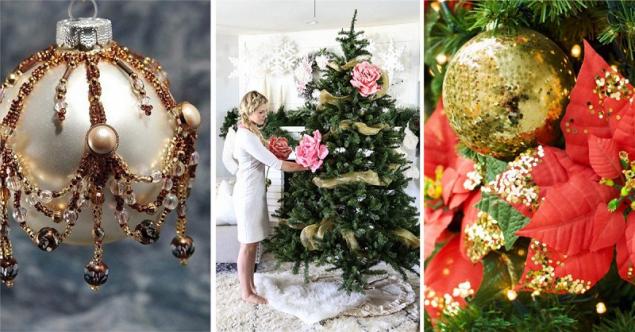 Do not rush to spend a lot of money on buying new decorations. Edition
"Website"
will tell you
how to make Christmas tree decorations with your own hands
. And if you have lying around the house lost attractive balls, we'll show you how to give them new life.
How to make toys for alcoceba need
50 ml of water
4-5 tsp sugar
10 ml of PVA glue
yarn for knitting or twine
beads or other decorations
Progress
Mix the sugar, water and glue. The resulting mixture will serve as glue. The ratio of ingredients can vary. For example, if you add more sugar and glue — the ball will be almost like wire.
Blow the required size of the balloon. His tie dipped in a solution thread. Leave it to dry.




Run the ball with the needle and gently pull it out. Can color obtained billet spray paint silver or gold colour. Decorate as your heart desires!



Also this way you can transform old Christmas decorations, or to wrap the unnecessary light bulbs. Very impressive look on the Christmas tree these ornaments.




The idea of transformation of the old Christmas toys
Christmas bead covered with twine, burlap, lace, looks stylish and harmonious.




Another very simple and at the same time stylish idea — decorate old balls and beads.



If you know how to crochet or knitting, you will not be difficult to do delicate "clothes" for old Christmas toys.



Use beads to create a very sophisticated toy. But paint first, the old balls.



Another very simple option is to strew the decoration of sequins.



Natural ornaments collected during walks with the child, will be a great decor for old Christmas toys.



The kids will love to decorate the Christmas tree with balls featuring your favorite cartoon characters.



So you can easily get very effective toys for the Christmas tree. No one will know that you spent them a penny.
Start to create a festive atmosphere now! Share ideas with your friends in social networks!
The author
Oksana Dudnik Loves painting, ready to admire the pictures all the time! Oksana knows a lot about perfumes, well versed in fashion trends and will give odds to many well-known beauty bloggers. Her love of sport supported by sports category in sailing! Xenia prefers meat dishes, can not imagine a day without them. Favorite book charming girls — "the Emperor" Niccolo Machiavelli.