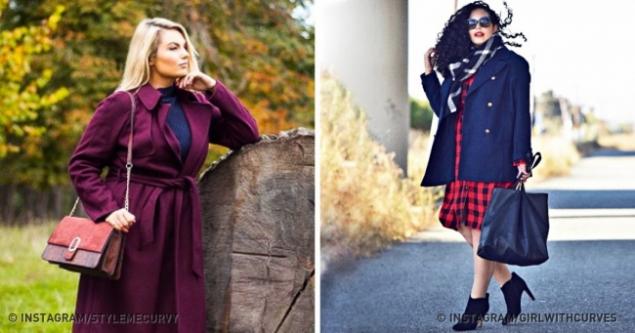 Modern standards of beauty are so ingrained in our minds that the style associated exclusively with the tall and slim girls of model sizes. But these luxury bloggers on your example proves that beauty cannot be measured in kilograms and centimeters.
The website
admires these courageous women of fashion, who showed that any woman can be stylish regardless of the size of the garment.
Nadia Of Aboulhosn
This bright girl is one of the most popular fashion bloggers. Besides, Nadia works as a model, collaborating with famous fashion houses and creates clothes under his brand. By example she proves that weight is not important, the main thing is to feel confident in what you wear.
Tanesha Awasthi
Tanesha has created a blog 5 years ago to show that fashion is not exclusive to tall and slender girls. Her goal is to empower women worldwide to love themselves, regardless of clothing size. And looking at her stylish and luxury images, you unwittingly agree with this lovely lady.
Rajini RAO Naga
Rajini works as a fashion editor at the online magazine xoJane and leads his unusual blog. The girl herself describes her style as "plus-size bed with a vintage flair". Rajini combines fashion trends with vintage finds, loves floral print and unusual hats.
Jay Miranda
Jay is a charming mom and fashion blogger. She believes that "fashion exists outside of dimensions, and that every woman can be stylish and beautiful." Readers describe her blog as "a Cup of chamomile tea." Blog Jay is the ideal place where you can get a shot of inspiration.
Rochelle Johnson
On its website Rochelle confidently declares that "in the pages of her blog you'll see a girl who is not afraid to wear what she likes, and to destroy stereotypes." And, looking at stylish images and interesting combinations of clothes, we are convinced of the correctness of this trendy plus-size blogger.
Louis O'reilly
Luis is a professional model plus size that works with international brands of clothes and cosmetics. To Express themselves and show their positive attitude to the body, the girl created a fashion blog that posts photos of their stylish images.
Gabby Greg
"Our culture is so obsessed with the idea of harmony, that the appearance of someone my size in a swimsuit (bikini), shocked most people," says Gabby. Despite its not a sports figure, Gabby has long been considered one of the most fashionable girls in new York. Her blog she encourages to step out of the comfort zone and stop hiding myself in oversized bags.
Bianca Vaccarini
Simple style and bright cheerful pictures of this girl conquered hundreds of readers around the world. Bianca graduated from University and got a degree in journalism, so in addition to travel and fashion blog, she writes serious articles on various topics.
Nicolette Mason
Nicolet leads an active and busy life. In her blog, she shares not only its fashionable images, but also stories about various events and travels. She works as a contributing fashion editor and columnist for American fashion magazine Marie Claire. And more — charges all readers of his inexhaustible optimism.
Flavia Lacerda
When you look at Flavia conventional standards of beauty already not seem so correct. She worked as a nanny, and only by happy coincidence has become a plus-size model. Sultry Brazilian advertises not only clothes, but she loves to make stylish images that shares in his blog.
Photo preview on instagram/stylemecurvy,
instagram/girlwithcurves
See also
Here cover, where draping is not about her
That should look like an ideal female figure
via www.adme.ru/svoboda-sdelaj-sam/vot-kak-dolzhno-vyglyadet-idealnoe-zhenskoe-telo-1289865/