You think the 90s are long gone, and all that they brought us, out of date forever? And here and there. Luminescence in fashion again! And she returned to us in an entirely new way. Now this is not the same type of patterns and texts, and more products created by the user.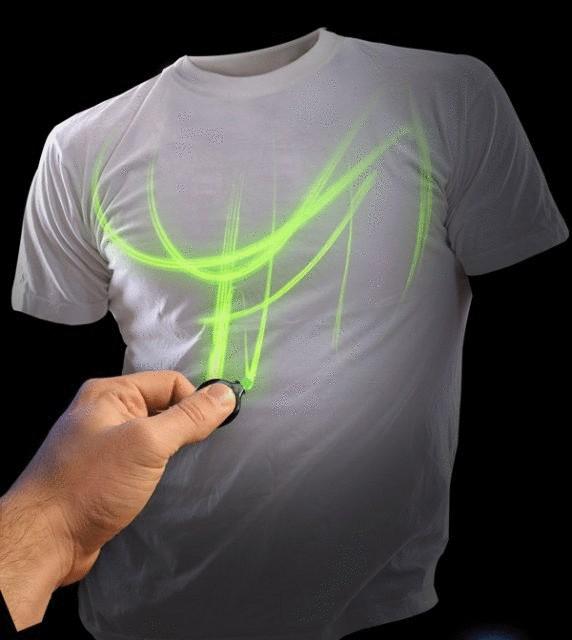 The US company Glow Threads has developed his latest creation: t-shirts, offering its surface to create on it any pictures and texts which you can think of its owner. The glow effect is achieved using a treatment by irradiation of special material with a secretive compound, which is made of t-shirt, a small token-a key FOB equipped with a UV led. Thanks to this application method and material of t-shirt fluorescent glow persists for a certain amount of time.        
That is, there is no need to run around to numerous stores, looking for clothes with suitable inscriptions or images, all this can be done independently. And to change the print can at least every day, you just turn off the light, and you can start to create. Another advantage of this product is the ability to use absolutely the entire surface of the shirt from the sleeves to the neck.
And the most enjoyable is that this t-shirt, complete with the case and a keychain pointer for printing, is available for purchase in the online store of the manufacturer for only $25. T-shirt is available in standard size range from S to XL. So preparing for Christmas parties now somewhat easier: from festive clothes, it is sufficient to acquire only a white t-shirt.
Source: /users/104