T-shirts with phosphorescent prints or patterns visible only in ultraviolet light was at a premium among visitors of rave parties in the early 90s. Over the past years a number of different "fireflies" for the club of life has increased exponentially. Popularity among the youth are not lost, but can be traced even some independent evolution of this "genre" of clothing. And here not long ago produced the first fully interactive t-shirt: You can make it unique sparkling pattern. In addition, you can draw a new one at least every night.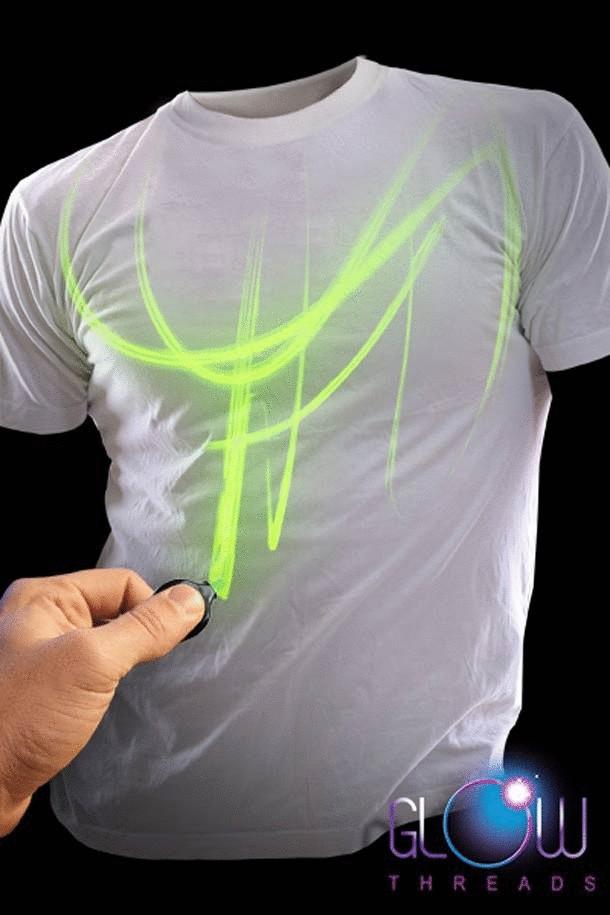 T-shirt with print on demand or that on which to draw with markers-paint is no surprise. But the field of creativity there is always limited: either the ability of the printer, either their own nepryamougolnoy. New from Glоw Thrеads gives great freedom of action. After all, to create a unique pattern need not be a genius, and certainly no need ink and paint. Paint will have to... light. And the canvas becomes the entire surface of the shirt.
The secret novelties Glow Threads lies in the special material of which is sewn a t-shirt. The name of the developers correctly not mention, although the tag on fresh buying, maybe something tells.
Source: /users/413