The Chicago Department of transportation presented "the green street of America" — the first part of a two-mile stretch of the new highway area, Pilsen. The plot demonstrates how advanced environmental technologies can be embedded in urban infrastructure.
According to Gabe Klein (Gabe Klein), Commissioner of the city Department: "This project demonstrates a full range of sustainable design techniques that improve the urban ecosystem and promotes economic development, improves safety and usability of streets for all users, promotes the construction of healthy society."
The greenest street in the country has cost Chicago taxpayers $14 million for What was for them the city?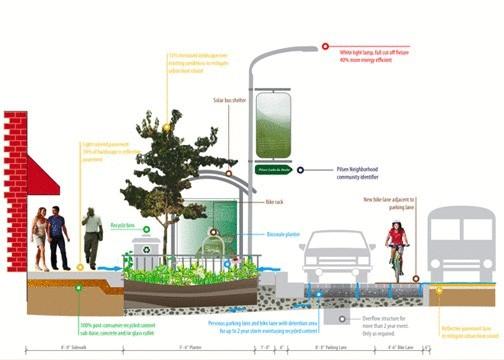 Literally every inch of new highway "is full of" environmental innovations. For the first time in commercial practice for equipment of the roadway used photocatalytic cement. Under the action of ultraviolet light it cleans the surface and removes nitrogen oxides from the air.
Nearly a quarter of all building materials obtained as a result of recycling, 60% can be recycled after end of life. Paving concrete for the first time contains up to 30% recycled materials. The asphalt surface of the roadway made by the technology of heat styling using recycled asphalt and gravel with additions of slag and crumb rubber.
Up to 80% of the average amount falling on the street of precipitation, will be removed with the use of stormwater, lawns and "rain gardens". It is planned the construction of two platforms for receiving and filtering stormwater runoff. Irrigation landscape objects does not include the use of drinking water. For lawns and biofilters 95 selected species of native, drought tolerant plants.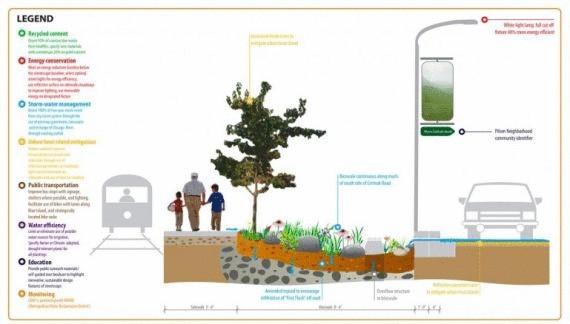 "Green street" consumes 42% less energy than conventional. Led lights, first in Chicago, turns on automatically after dark. Also for the first time in the city's pedestrian crossing equipped with light alarm system self-powered from renewable sources, solar and wind.
Saving energy contributes to the system of procurement of materials. 76% of them manufactured within 500 miles of the construction site, 23% — less then 200 miles.
The road surface has a high reflectivity, which reduces heat from sunlight. In addition, the roadway is covered with shade from trees, a third more than other streets.  
Source: /users/104