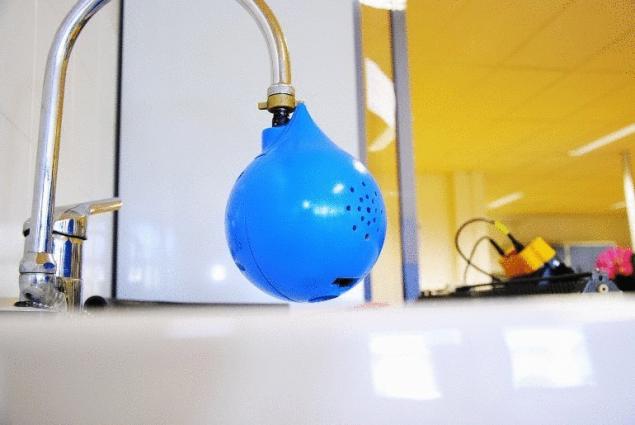 The famous designer and part-time engineer Dyson Award has found a solution to the problems uncovered by the children of the taps in the bathrooms, which have severely affected family budgets. In the modern world, struggling to save every kilowatt of electricity and every litre of water, people put aerators on the taps, try the toilet by saving water and individual meters is already almost everywhere. But on a regular basis uncovered children crane sometimes was an impossible task – to teach their children to save water, could not all.
Device TipTapTop resembles a huge drop of water that simply attaches to the faucet. It is equipped with sensors that respond to present to the nozzle of the hand. And even in those moments when the child reaches for the soap and soaping the palm of your hand, the water supply will be discontinued, which for a long period of time will allow you to save one cubic meter of water.
Another interesting point in TipTapTop is the presence of a voice system, which at the beginning of water supply welcomes the child and talks about proper hand washing. On hearing a pleasant voice, children with a greater desire to visit the bathroom, and the problem of dirty hands in families where the mounted device disappears completely.
According to the Dyson Award, installation TipTapTop allows to reduce the consumption of water in the house up to 70 percent when a family has three or more children. And this is a significant savings on utility bills, which quickly pays for the cost of the original device.
It is also noteworthy that in the production of this nozzle to save water Creator actively used advanced technology. Since most of the components TipTapTop printed on a 3D printer, and the shape of the droplets is selected not only for attractiveness, but also because of the natural amplification of the sound coming from the speakers. This factor, according to the Dyson Award, is particularly relevant in noisy public places, for example, in schools where the device should be interested in the first place.
On the exact timing of the emergence of TipTapTop on the market and its price information yet, but the Creator of the nozzles assures that his work will be available for almost everyone.
Source: zeleneet.com