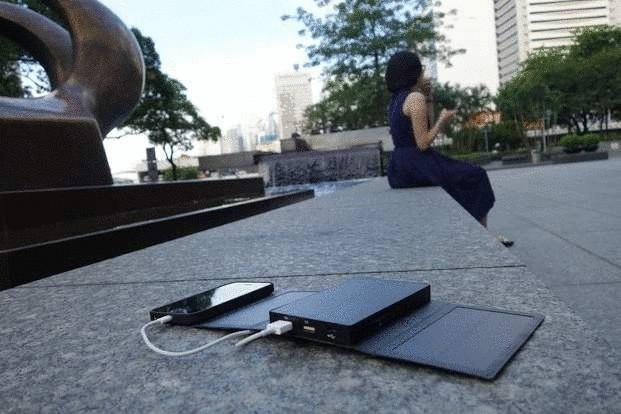 Not so long ago Facepla.net played among fans of "exotic" device — solar charger for mobile phone. It took quite some time, and new original designs solar chargers fell to the consumer as from a cornucopia. Confirmation of this — some interesting designs coming to the market via crowdfunding.
PyxisSolarpod Solarpod Pyxis is a combination of the design is quite capacious battery of 5000 mAh and 32 GB of memory, supplemented by an SD card slot as an additional bonus.
Memory is undoubtedly a good thing, but the main "highlight" of the charging folding solar panel powerful enough to charge the battery for 4.5 hours. It's not much slower than the charge from the mains via a USB port which lasts 4 hours.
Charger Solarpod Pyxis seems like a potential investment. 12 days before the end of the campaign, the project has collected more than 100 thousand dollars, almost three times blocking the original purpose.
Gidgi
Gidgi — this charger combined with the purse. For men purse is too big, but the ladies never are less.
In fact, this Shoe is not just a purse, rather a case for a smartphone, inside which is placed a round battery and has compartments for credit cards and outside two solar panels.
Five days before the end of the campaign on the wallet forked, unfortunately, not many investors, putting in around 8.5 thousand dollars. The amount collected is clearly not up until the goal, making just 40%.
Solar Socket
Solar Socket unlike the vast majority of solar chargers are not mobile and a stationary device. The advantage of this approach is that you can use the solar panel without significant restrictions on capacity. To wear it is not necessary.
The solar panel is installed in a suitable place and down the cable to the USB socket mounted directly into the wall. Socket not connected with standard wiring, always ensure that the mobile green energy. It is not ashamed to show to guests, demonstrating their desire to keep the planet clean.
The idea, of course, deserves attention, but how it will be supported by the investors too early to say. 30 days before the end of the crowdfunding campaign, the project has collected a little more than 1 thousand dollars or 2% from the target. But there's still time.
Sun Strap
Sun Strap — solar strap or useful to tourists. On the market a lot of various designs of backpacks, combined with the chargers. In this case, nothing limits the selection of tourist crossbody bag. Sun Strap is a plate, which can be clipped to the strap of any backpack. Obviously, this approach is easier and cheaper.
17 days to the finish in the sun belt almost 10 thousand dollars, or 64% of the planned amount.
Source: facepla.net