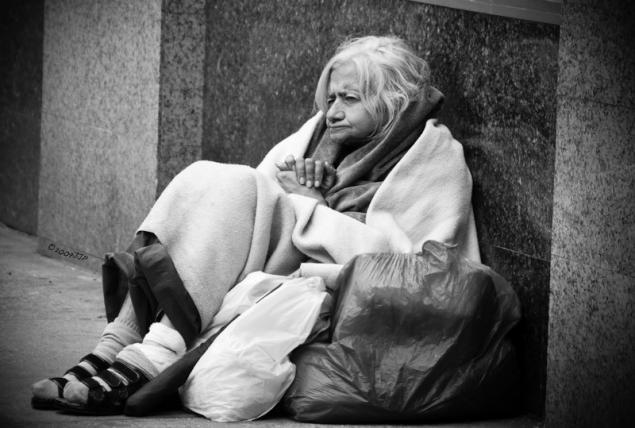 The reason a lonely and impoverished old age just one IS HATRED. No other reason. Everything else is just consequences. Proopecia one – HATE is not the ability to see the relationship. All just because – not seen in his youth, did not understand how the world works, and what it communicates, has not worked through the hatred, respectively, took wrong decisions, made wrong steps and in the end got the result in my old age. POVERTY IS ALWAYS A CORRECTION HATE. And out of this can only one who works on himself.
But often this correction occurs in old age. Here's a hard correction.
Today, the store drew attention to the grandmother – long chose canned cheaper. Noticed that to plus 2 degrees it was in rubber Slippers...
Bought her a full basket of food, and she wailed: "Oh, don't, me to the cash register is not empty, they know that I have no money". When I realized that this is not a joke, that I opalco and that you can take whatever she wanted, she took the butter and rice. BUTTER AND RICE!!! Asked what the house is not of the products to understand what has taken, it turned out that the house do nothing.
She didn't leave the house for a month. Eating canned food, they ended a few days ago. Shiny eyes said to me: "You know son(and called You "son" ) when I leave the house, had asked heavenly Father to send me 100 rubles for food. I sometimes find money on the road, and You look how many I bought." I go and I feel ashamed.  
Yes, the picture of hopeless misery. Grandma TROUBLE. The author, as they say, respect and uvazhuha, for helping my grandmother. However, the situation is that he has not changed. "Treating the symptoms" instead of eliminating the root cause.
By the way, who of You, dear readers, I will answer what actually "TROUBLE" AND "POVERTY"? The essence of the phenomena? Why in a place with poverty comes trouble and why lyudin purposefully driven into poverty?
Okay, I will not torment You with riddles. It's really very simple, because everything in the language are encrypted, as they say, straight nose. Only hatred and lets see what the VEDA IS the LANGUAGE I books Khinevich.
So we say the Vedas?
TROUBLE = WITHOUT-FOOD.
To understand what "POVERTY", remember that there is a Ukrainian word "ZNESINNYA". I see that it is one and the same? And on Russian it is translated as "DESTRUCTION". Now understand the essence of the phenomenon "POVERTY"?
SEE HOW SIMPLE IT IS. LYUDIN DRIVEN INTO POVERTY IS A TOOL OF GENOCIDE. AND THEN COMES THE TROUBLE – THE TROUBLE IS WHEN THERE IS NOTHING TO EAT, THEN TROUBLE. TROUBLE IMMEDIATELY FOLLOWS THE POVERTY YOU HAVE THESE TWO GIRLFRIENDS.
AND WHAT IS VICTORY? HAVE GUESSED? THIS "POST-TROUBLES" – THAT'S HOW THE TROUBLE MANAGED, AND VICTORY.
SEE HOW EASY THAT WAS? IS YOUR MIND ACCUSTOMED TO COMPLICATE THINGS, BUT IN NATURE EVERYTHING IS SIMPLE – THE ESSENCE OF THINGS.
But back to our grandmother. Grandma and poverty and trouble, but we important reasons. We do, it is important to understand the causes. To understand WHY THIS POVERTY IS a CORRECTOR of HATRED.
He took home raised products. She lives in a home business class – brick towers at the intersection of Lenin and Udaltsov (Moscow – an explanation from the administrator group SB). Surprised. It turned out that the apartment was the result after the demolition of the building, which stood on this spot.
In fact, the human must live in their home on their land. And then there it turned out that the pensioner was lodged in the new building. Of course it will not have enough money.
I understand about why money from the pension is not enough for food, utilities in this house, Concierge (try not to take the money) and other costs 2 times more than in the five story building, and other housing grandma doesn't have to deal with sharing an apartment is terrible – the elderly killed, the deceived, in General, to change the apartment there is no chance.
But actually to engage in the exchange, etc. in this case the woman always got a man. Of course, if the woman itself it can afford – I mean, allow yourself to be a woman. Because if she's a WOMAN WITH balls, there a number of MEN will not. Will not.
Okay, a few quotes, and analysis of the situation.
She lived with her son. Son died 6 years ago, there was one.
Yes, naturally – all the text, no mention of husband. Okay, more about that situation when we're apart.
And what is interesting – because a lot of people wealthy lives, they'll know her son, you see, grandma lived a long time and walks in the autumn sneakers, not eating properly...
And it does not matter it all. The important thing is that this poor basket of products that it for a month enough is worth 2000 rubles. 2000 FUCKING RUBLES! 19 storey building driveway two business class people can not cooperate and did not give her grandmother die of hunger.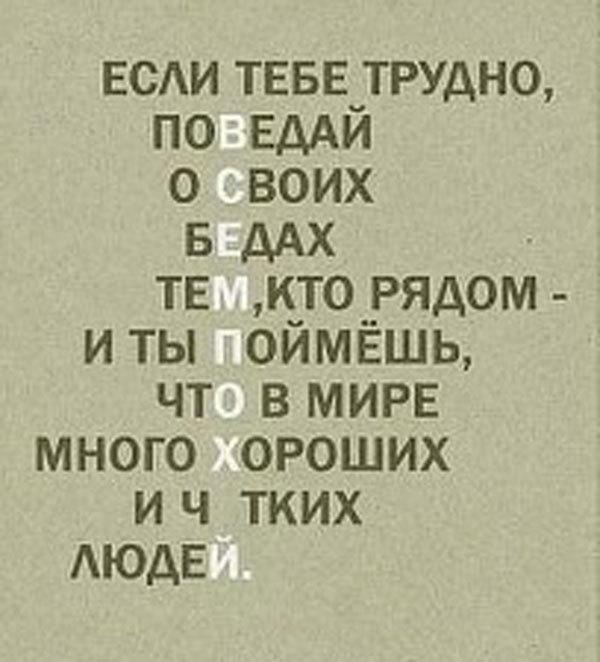 Well, what is there to be surprised? SURPRISINGLY, THIS IS ONE OF THE MANIFESTATIONS OF HATRED. This time the hatred of the author of the text – which does not see the essence of life in the matrix. Well what can I say – look at the demotivator to the left and all will become clear. And you, dear reader, also do not see such basic things?
Returned home, opened FB, then I saw another description of a similar situation in the store (the screen from the page Olena Danko), once again convinced that the situation is just Achtung. A lonely old man could die from hunger in the house where all the neighbors know that the man is malnourished and everyone has the opportunity without straining its budget to extend the life of my grandmother. All... p. Even not all of pooooooo... EP. Doctors will come, will draw up somehow, and no man.
FOR THOSE WHO STILL DO NOT UNDERSTAND, LOOK AGAIN AT THE PICTURE. IF YOU TAKE CARE OF YOURSELF, THEN WHY WOULD YOU EXPECT THAT SOMEONE ELSE WILL CARE ABOUT YOU?
And grandma kind!))) He worked in the Institute of Astronautics (it seems so was called), researcher, PhD. Was once. Looked at photos of distant youth – what was a beautiful woman!)
Space people worked, developed the filling machine where Gagarin was sent into space. Anyway. Will die from hunger and all – no one is interested.
NOW THE ANALYSIS OF THE SITUATION.
If grandmother lived as a woman, nothing she would not. And so...
Grandma all strove like a man to build a brighter future. The space to develop. In the "Bolshoi theatre" was sung. Anything worked, but would not deal with family husband and kids.
By the way, have you noticed that in the text there is no word about her husband. Word even that he ever existed. Only the son is mentioned. And it says just over the top hatred of men. IF A WOMAN HAS NO HUSBAND, IT SPEAKS ONLY ABOUT HER HATRED OF MEN THAT HER HUSBAND IS NOT NEEDED.
Grandma sang in the theatre. THIS IS CALLED THE – MATRIX OF BL... AND IS ONE OF ITS MANIFESTATIONS. Show me an actress who had a healthy strong family. Them simply no, because the ACTRESS (the MATRIX B) AND the FEMALE MODEL of RESIDENCE is NOT COMPATIBLE. HERE IT IS "EITHER-OR".
Let's move on. My grandmother worked for the space program. Also out of hatred. Because they do not understand the essence of the matrix. Did not understand the essence of the state (and this is highly recommend reading for everyone). Grandma never saw that she was just a cog. Only a SLAVE. YES, HIGHLY SKILLED SLAVE, BUT NO MORE. And when she grew old, who is already such a slave to need, which is no good there? Put retirement, only that hunger is not dead, and that's all.
YES, FRIENDS, THIS IS THE HARD TRUTH – IT WILL BE WITH ANYONE WHO EXPECTS THAT THE MATRIX WILL GIVE HIM A COMFORTABLE AND CONTENT EXISTENCE TO A RIPE OLD AGE.
SO, AS IT TURNS OUT. To SUMMARIZE.
Probably at grandmother's life was like that. She, because of his hatred, the woman did not want to be. In the family "was not confined". The first stage of a Large study at the Institute. Then work on the space. RAB-grandmother all qualifying and qualifying. It encourages, while it can benefit to bring. Her apartment was given.
That's just the years go by and marriage adds up. Still, after the husband and the WIFE need, and not a rival in the competition "who has more balls". Children and grandmother want. So she decided to give birth "for themselves". And gave birth to, and raised himself mortalities, someone who can provide her a comfortable old age, cutting off son every opportunity to live your life. Here son, and have not mastered this life – a MOTHER SENT INTO the pit SON. But certainly so hoped that her son will finish with in old age. Moreover, the grandmother, to Supplement her it was at the cost of his own life,... eve you have to be near my mom, no independence, no personal development, not approved by the mother.
And daughter now returns my grandmother all that she gave – it was not of his daughter with the late grandma's son a happy life. WAS NOT! The guarantee I give. Most likely she married a boy that I went because housing capital is calculated. What kind of a wife could the son choose if he WOMEN has never seen? If the house was not a woman but a parody of a woman.
THAT'S THE WHOLE STORY. THAT'S SUCH A SAD STORY. I HOPE NOW YOU UNDERSTAND WHY POVERTY – CORRECTOR HATRED. BECAUSE HATE IS A CAUSE OF POVERTY. IF GRANNY LIVED AS A WOMAN OUGHT TO LIVE, NOT IF SHE HAD SUCH A POVERTY-STRICKEN OLD AGE.
AND ALL OF US THIS LESSON – HOW NOT TO DO. THEIR MATRIX IS ALWAYS UP ON THE SIDE OF THOSE WHO ARE NO LONGER NEEDED.
IF YOU TAKE CARE OF YOURSELF, AND YOU'RE NOT WORKING ON NOT WORKING ON HATE, THEN WHY DO YOU EXPECT THE REST OF YOU CARE?  
Author: Alexander Kaldowski
Source: koldovskie.com/prichina_nischety_v_starosti/