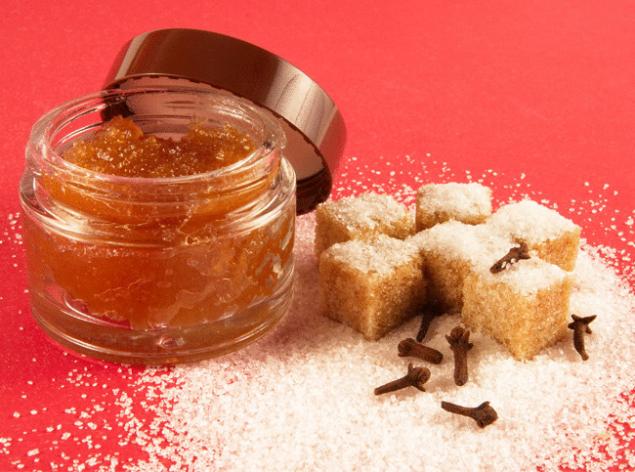 © thinkstockphotos  
Scrub call cosmetic product with solid particles used to clean the skin from dead cells. In house conditions it is possible to carry out peeling on your own, and prepare effective sugar scrub.
Cleansing must be conducted no less than once per week. Cells at the surface of the epidermis, permanently die. However, they are not always sloughed off on their own. Sometimes dead cells accumulate, making the skin becomes unhealthy in appearance.
Often dead cells cause acne, as it can clog the pores of the skin and sebaceous glands. To effectively clean the skin, cosmetologists recommend the procedure to perform that can be at home using special scrubs.
Cosmetics are expensive, so you can save considerably by preparing yourself scrub. Another advantage of using homemade body scrub – natural exfoliating agent. Woman can pick up components that will not harm the health of the skin and will not cause allergic reactions.
One of the easiest ways homemade scrub using granulated sugar. This allows you to create a truly effective means, filled with a rough polyhedral particles, perfectly removes dead skin layer. Scrub with the inclusion of sugar cleanses the body gently, as under the influence of dense water particles gradually melt away.
Unlike the common salt peeling, even with the appearance of microcracks, the woman will not experience discomfort because the sugar will not cause a characteristic tingling. In the sugar contains glycolic acid which protects the skin from toxic substances.
Prepare a sugar scrub is easy.
What you need
:
3 tbsp any vegetable oil (better olive, it almost does not cause allergies and is suitable for any skin type);
4 tbsp sugar.
How to cook
:
1. Stir vegetable oil and sugar.
2. Apply the scrub with gentle circular motions. Then rinse with warm water.
You can add sugar and any cream for the body. Creating your own body scrub, you can also add it and other components. For example, using cocoa powder, cooking chocolate scrub. Entering into the composition of cosmetic products essential oils, you can get a great sugar scrub with a pleasant aroma and useful properties.
The addition of carrot juice will give the skin a shade reminiscent of a smooth Golden tan. If you enter in a sugar scrub with cinnamon, can help in the fight against cellulite. In the presence of inflamed acne, you can prepare a scrub with the addition of sea buckthorn oil.
The velvety skin is provided, if you make sugar scrub with
with
sour cream. To do this, simply mix sugar and sour cream in equal quantities, adding a little grated Apple. Women of Mature age will help scrub with potato juice that eases the effects of aging. 4 tbsp. sugar mixed with egg yolk and juice of one potato tuber. After application to the skin, this means you need to wait 5-7 minutes, wash off the scrub and use any nourishing cream.
Apply the sugar scrub in the same way as other funds intended for exfoliation. Homemade cream is applied to wet skin and rubbed into the surface with a soft circular motion. Then scrub, wash off and get wet skin with a towel.
To prepare sugar scrub directly before the cosmetic procedure. You can also stock up a means for the future. In this case, store the scrub in the refrigerator in a tightly closed container.
published
Source: domashniy.ru/