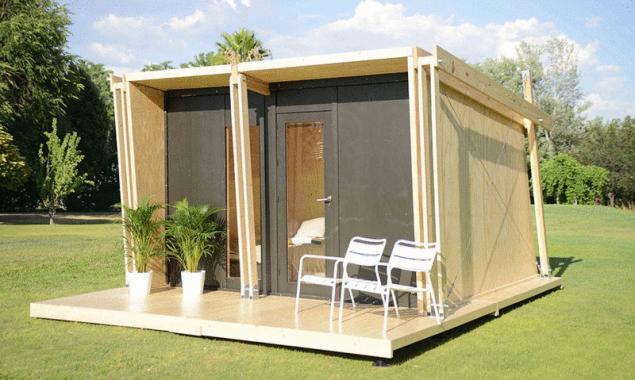 The Spanish team of architects Vivood offers new small prefabricated house of the same name, which can be used as accommodation for glamping, guest house or country cabins. Prefabricated house has a very simple design and supplied to the construction site in ready-to-assemble modular sections, equipped with built-in electrical wiring and plumbing components. According to the architects, it can be assembled in one day by a small group of people, not even having any relation to construction.
Compared to other similar models, prefabricated house Vivood looks not fundamental structure. We can also assume that it is only suitable for mild conditions, but the company offers it at a price of 6800 euros (approximately 9160 US dollars), which can be considered a relatively inexpensive option for light or temporary housing.
The house is made from certified wood and is available in several size versions, ranging from 14,35 to 33.1 square meters. Small interior space may include a living room (sofa, bookshelf, table with chairs) and a bedroom (beds, bedside tables).
Each house Vivood has a small canopy over the door and a wooden outdoor terrace. At the request of the customer can be added to the house design section with a small toilet, a bathroom (sink and shower) and storeroom. However, none of the standard trim of the house is not provided for the section of the kitchen.
Additional options for home the company offers solar panels, composting toilet and rainwater harvesting, which make the house self-sufficient structure.
In the video below, shows how the house Vivood built and dismantled a small group of people for 8 hours and 48 minutes. published
Source: www.vzavtra.net/sovremennye-zdaniya/ispanskie-arxitektory-predstavili-novyj-nedorogoj-sbornyj-domik-kotoryj-mozhno-smontirovat-za-1-den.html